Sweet Redemption: Blade Runner 2049 Has Made $21 Million in Blu-ray and DVD Sales
Photo by Stephen Vaughan/Alcon Entertainment
Movies
News
Blade Runner 2049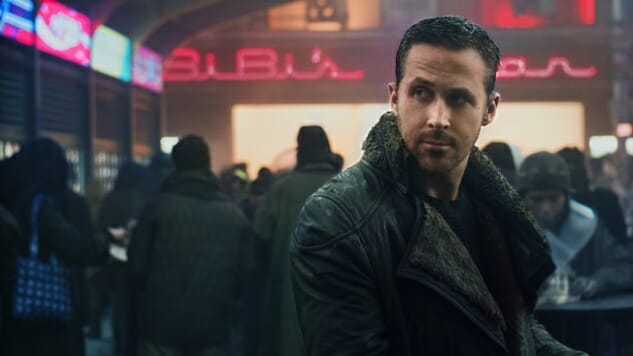 2017 was not kind to Denis Villeneuve's Blade Runner 2049, but things are looking up in 2018: The Warner Bros. sci-fi thriller, which disappointed at the box office during its theatrical release despite widespread acclaim, is one of this year's top sellers on Blu-ray and DVD, with over $21 million and counting in home video sales, according to industry data and research outlet The Numbers (by way of IndieWire).
Between production costs and marketing, the film, a follow-up to Ridley Scott's 1982 sci-fi classic Blade Runner, ran up a hefty $300 million price tag, a mark it couldn't match, let alone exceed—it made just $259 million worldwide, including only $92 million in the U.S. Both Villeneuve and Scott have since spoken publicly about the film's financial failures, with Villeneuve lamenting, "I make movies, I don't sell them," and Scott offering a characteristically blunt assessment of what went wrong: "It's slow. It's slow. Long. Too long. I would have taken out half an hour." Indeed, the film's gargantuan run time likely played a role in its underwhelming box-office take.
However, Blade Runner 2049's commercial and critical receptions could not have been more opposite: The film is "Certified Fresh" on Rotten Tomatoes, with an impressive score of 87 percent. Paste's Dom Sinacola called it "an astounding achievement" in his review, rating it an 8.4—we later listed it among our top films of 2017, ranking only a handful of stellar features ahead of it. And the Academy co-signed all of that critical praise in February, as Blade Runner 2049 won Oscars for its outstanding cinematography (all hail, Roger Deakins) and visual effects, also landing nominations for production design, sound mixing and sound editing.
Blade Runner 2049, which opened last October, was released on DVD on Dec. 26, 2017 and Blu-ray on Jan. 16, selling just under one million copies (978, 917, to be exact) in 2018 so far. Its $21 million home video sales total comprises $3.8 million in DVDs sold and about $18 million worth of Blu-rays. That total makes Blade Runner 2049 the third highest-selling home video release of 2018, behind only horror sensation IT and surprise family smash Wonder.
You can grab a copy of Blade Runner 2049 here, if you're so inclined.