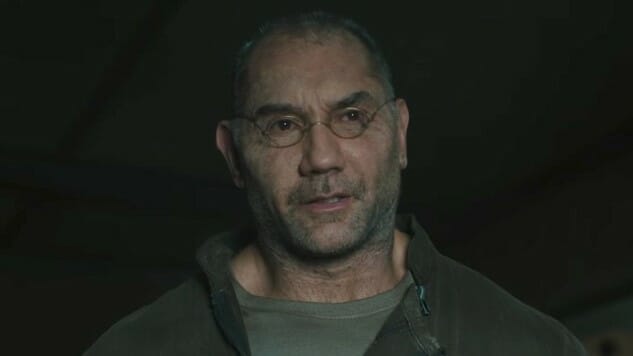 It's been sort of amazing to witness the cinematic evolution of Dave Bautista in the last few years. The former WWE wrestler and multi-time world champion has done it all, from fighting professionally in MMA 'ala fellow WWE wrestler Brock Lesnar, before he leapt onto the silver screen in a big way portraying Drax in the Guardians of the Galaxy franchise. But in doing so, he's seemingly managed to leapfrog fellow wrestler John Cena in the Hollywood pecking order, who had seemingly been anointed as heir apparent to Dwayne "The Rock" Johnson in terms of wrestling crossover appeal. But where Cena is largely continuing to appear in comedies such as Trainwreck (inarguably one of his strengths), it's Bautista who continues to show growing range.
#BladeRunner2049's @DaveBautista is a replicant on the run in this never-before-seen in-world prequel. Watch it now. pic.twitter.com/xGn3WfjATF

— iTunes Trailers (@iTunesTrailers) September 14, 2017
That range is on display in tweet-embedded video above, which just hit the web. The latest in a series of short film prequels filling in some of the world and backstories of Denis Villeneuve's Blade Runner 2049, this entry set in 2048 focuses solely on Bautista's character, who seems to be scratching to make a living selling … we're not sure exactly. Worms of some kind? Despite the pressures facing him, he's shown to be a gentle giant, stopping off at a cart to meet a young girl and give her a copy of Graham Greene's 1940 novel The Power and the Glory, which he describes as "an outlaw priest trying to understand the meaning of being human."
Could this be a metaphor for the arc of Bautista's own character? The short certainly throws plenty more fuel on the "Is this guy a replicant?" fire, given that he gets stabbed directly in the arm and doesn't react to it with any noticeable pain. He's also described by someone hunting him as a "rogue skin job," which sounds pretty replicant-esque to us.
We'll have to see when the film is finally released. Blade Runner 2049 will be released globally on Oct. 6, 2017.