Lucky Brand Celebrates Bohemian Rhapsody with Queen-Inspired Fashion Collection
Photo by Nick Delaney/20th Century Fox
Movies
News
Bohemian Rhapsody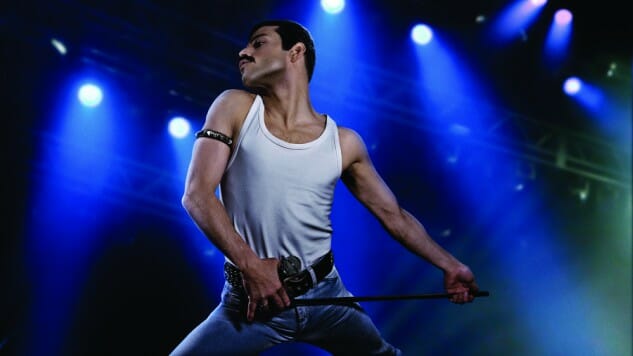 Aiming to boost excitement before the film's release on Nov. 2, the folks behind 20th Century Fox's Bohemian Rhapsody have paired with Lucky Brand for a limited-edition capsule collection, Queen x Lucky Brand.
The collection will feature seven pieces in total: a women's crewneck and long-sleeve, three women's graphic Ts and three men's. Each piece is vintage-inspired, and features designs such as album art—Queen's 1976 A Day At The Races, for example— and images of Freddy Mercury, the band's beloved frontman. The L.A.-based brand, principally known for denim, went into its archives for inspiration, aiming to reflect both its free-spirited nature and the band's famed glamor.
The partnership will also feature costume replicas from the movie displayed at Lucky Brand store locations. These replicas will be sold to bidders via online silent auction, with the proceeds benefitting Communities in Schools.
"Lucky Brand's irreverent heritage and rock & roll roots are a perfect fit for Bohemian Rhapsody," said Chris Cerbo, Senior VP of Marketing Partnerships at Twentieth Century Fox, in a statement.
Further, Lucky Brand CEO Carlos Alberini noted that music has always been a heavy influence on the brand's style, and Queen, being "one of the most iconic bands of all time," is the perfect inspiration for the capsule collection.
The collection can be found at the Lucky Brand website, as well as at 150 of the brand's retail locations across North America. Check out the Bohemian Rhapsody trailer below for a look at the forthcoming film.