Brie Larson and Charlie Kaufman are Teaming up for Netflix Film, I'm Thinking of Ending Things
Photo by Kevork Djansezian/Getty
Movies
News
Brie Larson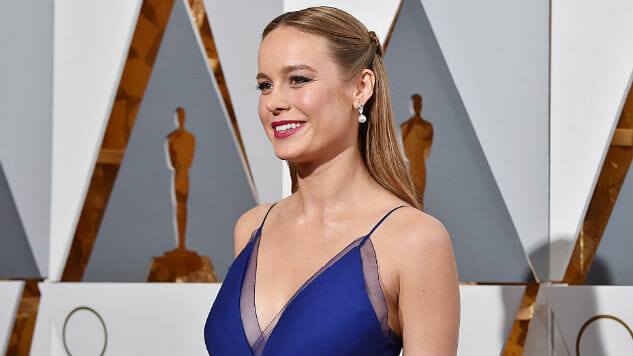 It's clear to anyone paying attention that Netflix is getting serious about its Academy Award ambitions. How serious are we talking? We're talkin' Charlie Kaufman Serious, which is pretty damn serious indeed. Deadline is reporting that Brie Larson, herself an Oscar winner, is in final talks to star in Netflix's adaptation of the novel I'm Thinking of Ending Things, to be written and directed by Kaufman. Everything about that collaboration just screams "give us an Oscar already."
Larson is of course in the midst of hyping Marvel's Captain Marvel right now, which will no doubt be a bellwether in proving just how much of a bankable "Hollywood star" she is at this moment, but her acting chops have been on full display in the likes of Room and Short Term 12. Kaufman, meanwhile, has written the likes of Adaptation and Eternal Sunshine of the Spotless Mind, and directed Synechdoche, New York and Anomalisa.That's two pretty big resumes coming together.
I'm Thinking of Ending Things is a 2016 novel by Iain Reid, whose plot sounds like something of a twisty thriller. Deadline describes it as such:
The plot centers on Jake, who is on a road trip to meet his parents on their secluded farm with his girlfriend (Larson), who is thinking of ending things. When Jake makes an unexpected detour leaving her stranded, a twisted mix of palpable tension, psychological frailty and sheer terror ensues.
Sounds interesting, if a bit confusing. Is this a psychological thriller, or a drama? It's difficult to tell.
Captain Marvel hits theaters on March 8 and will likely dominate the Brie Larson news-scape for the foreseeable future, but we expect more information on I'm Thinking of Ending Things to arrive shortly thereafter. Regardless, expect Netflix to put a lot of pomp and circumstance behind this project, especially if they can't get some kind of Oscar nomination for The Ballad of Buster Scruggs.