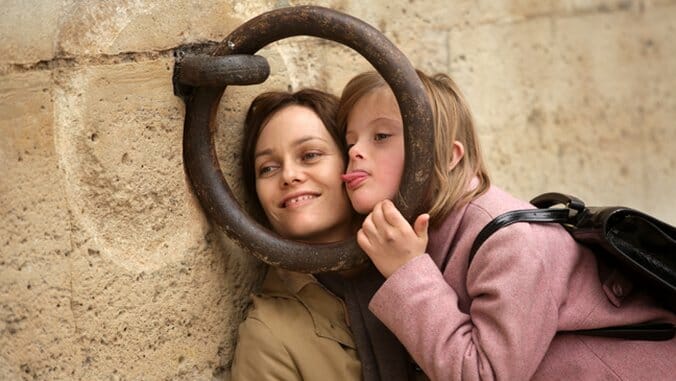 Love is patient, love is kind … is it? Or does it overwhelm with painful urgency, and rather than being blind, blind those who it captures? There are films where love is tender and romantic, like Titanic, or embarrassing and joyful, like When Harry Met Sally. Jean-Marc Vallée's Café de Flore is neither. With the intensity of a thriller and the emotion of a tragedy, his film gives love fingernails that sink into its characters and its audience and don't let go until someone finds the strength to pull them out.
Take Jacqueline (Vanessa Paradis): a single mother in Paris in 1969. Her son with Down Syndrome, Laurent, is the axis around which her world turns. Determined that she can change his 25-year life expectancy with love, she all but rips her heart from her chest to rid him of even the tiniest woe and give him a normal life.
Jump to the present: Carole (Hélène Florent) lives in Montreal with two beautiful daughters and her first and only love Antoine (Kevin Parent), her adolescent sweetheart and the only man she has ever kissed. Throughout his struggles with alcohol, she remains certain the he is her one love, assuring her girls that their relationship is "written in the stars."
But the heart is a lonely hunter, and not every wish upon a star comes true. When Laurent falls for a Véro, a petite fille of the same symptoms whom he meets at school, Jacqueline reacts with the fury of a betrayed lover, utterly heartbroken by her son. Similarly, when Antoine finds a new soulmate in the blond bombshell Rose (Evelyne Brochu)—so happy that he "radiates love from every pore"—Carole shatters. Though remaining strong during the day before her girls, she begins sleepwalking and having lifelike dreams—heart-stopping nightmares that involve a young boy.
The boy of her dreams is no coincidence. Neither is the fact that both Laurent and Antoine share an innate connection to the song "Café de Flore" by Matthew Herbert. It quickly becomes clear that the past and the present are less separated than it appears, and the cycle of life is more of a rack, punishing those who love too well.
With love, betrayal and past lives playing central characters, Café de Flore is incredibly ambitious. But it grasps every ring for which it reaches, and it's clear that every scene, shot and cut has been intricately placed like dominoes in a row. The cerebral time jumps and memory flashes demand zero questioning—accept them, let the carefully selected music be a guide, and it all works. The hauntingly gorgeous cinematography feels like a dream, and one from which a viewer might not want to wake up until it's over. Its rare that characters' feelings are as contagious as they are in this film, especially when they inflict suffering. Vallée is no amateur.
As abstract as the film is in theory, it is brought together with the conclusiveness of finishing a puzzle with no missing pieces. The end feels concrete and complete, which will be satisfying for those who like the relaxation that comes with answers, but perhaps demystifying for those who prefer to be left wondering. But it doesn't seem that the end was the goal for Vallée; in fact, it might even be the least relevant part of the film, especially next to the power of the emotional storm he creates.
There's a little song that Jacqueline sings to Laurent throughout the film: "Au ciel, au ciel, au ciel" ("To heaven, to heaven, to heaven"). Café de Flore leaves one question unanswered: if there is a heaven to go to, what kind of love is there? If it's anything like the earthly love in this film, perhaps it's better to never go at all.
Director: Jean-Marc Vallée
Writer: Jean-Marc Vallée
Starring: Vanessa Paradis, Hélène Florent, Kevin Parent
Release Date: Nov. 2