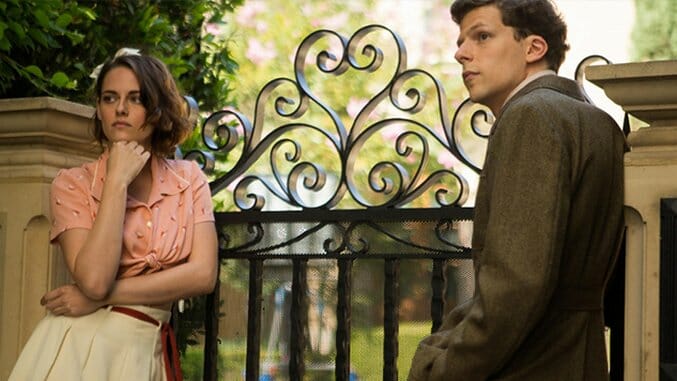 Proving once again that breaking new thematic ground is overrated, writer-director Woody Allen continues to dig into the issues that have consumed him for much of his career. Anyone looking to Café Society for fresh insights into love's challenges or the eternal battle between substance and superficiality will leave the theater wanting, but for those who have remained loyal to Allen's particular set of obsessions, this mildly ambitious, very familiar, ultimately rewarding comedy-drama does get to a tender, thoughtful place. But it also will confirm any naysayer's belief that this 80-year-old filmmaker's hit-to-miss ratio is getting iffier in recent years.
Set in the 1930s, Café Society stars Jesse Eisenberg as Bobby, a plucky young New Yorker who moves out to Los Angeles to get a job working for his incredibly powerful talent agent uncle Phil (Steve Carell). Bobby doesn't have any clear-cut aspirations beyond living among the fabulous in Hollywood, but soon his attention turns to Vonnie (Kristen Stewart), a pretty secretary in Phil's office. A down-to-earth woman in a land of name-droppers and schmoozers, Vonnie appeals to Bobby's sense of normalcy, and he quickly falls head over heels in love with her—the only complication being that she has a boyfriend, a journalist named Doug who often travels for his work.
If you've seen five Woody Allen movies, you can perhaps surmise a romantic twist is coming—and here it is: Vonnie's lover is actually Phil, who's been cheating on his wife with her for the last year. Wanting to marry Vonnie but fearful of destroying the 25-year marriage he has, Phil keeps their affair secret, with Bobby utterly unaware.
This love triangle forms the core of Café Society, but it doesn't entirely encompass everything on Allen's mind, leading to a film that tries to be more of an ensemble piece, making room for Bobby's extended family back in New York. At first, it's not apparent what, for example, Bobby's gangster brother (Corey Stoll) has to do with the overarching storyline, but eventually those cutaways will take on a greater importance during the film's final stretches.
Working with cinematographer Vittorio Storaro and longtime production designer Santo Loquasto, Allen intentionally paints the Hollywood settings with a posh, exaggerated elegance. It's a world of fake glamour, and the sun-splashed lighting is both inviting and clearly artificial. It will be no surprise, of course, that the filmmaker looks askance at L.A.—he's been making snide jokes about the town since the early 1970s—but this may be the first time he's actually tried to understand the appeal of its gorgeous weather and its promise of a new life that can only be dreamed about by those stuck in the frigid East Coast.
This is Eisenberg's second collaboration with Allen, after To Rome With Love, and initially he struggles playing someone who's clearly meant to be the film's Woody stand-in. (Allen himself does make an appearance, serving as the occasional off-screen narrator.) Hitting the filmmaker's nebbish-y mannerisms too hard at times—and even delivering certain line readings in Allen's trademark style—Eisenberg can't do much to enliven a very recognizable Woody type, full of stammering quips and nervous romantic charm. It helps that he's paired with Stewart, who (as she demonstrated in Adventureland and even somewhat in American Ultra) is a dependably cool yin to Eisenberg's anxious yang. They don't radiate red-hot sexual chemistry, but there's a calm intelligence to both actors, which always makes their cinematic pairings feel like a meeting of like minds and sensitive souls.
As Vonnie begins to develop feelings for Bobby—and problems start to arise with Phil—Café Society glides along on a fairly predictable trajectory, the movie far more wistful and gentle than outright hilarious. As has been common in Allen's later films, luck and chance have a major say in what occurs, and there is plentiful conversation about living in a possibly godless universe. (Even the period gangster elements recall earlier Woody films, specifically Bullets Over Broadway.)
But although much of Café Society is familiar, Allen wrings enough bittersweet lessons out of this bauble that it feels just novel enough. It's not a spoiler to say that things don't quite work out for Bobby and Vonnie, but Café Society does explore an unexpected direction about two-thirds of the way through, allowing Allen to examine his old plaints from a different perspective. (In this segment, Blake Lively gets a lot of mileage out of a character who's little more than a spectacularly alluring blonde.) And along the way, Eisenberg's performance morphs a bit too, suggesting that the embellished Woody-isms of the early going were, in part, a feint to conceal Bobby's true arc.
Where it all leads is a finale that, although not entirely startling, is deeply felt, the filmmaker one more time expressing his uncertainty about how much control any of us have over our fates. Café Society echoes, mirrors and sometimes straight-up copies pieces of earlier, better Woody Allen movies, but he can still make the emotions underlying his well-worn themes resonate. As his movies grow increasingly melancholy and he himself gets older, the poignancy of that repetition becomes all the more acute.
Director: Woody Allen
Writer: Woody Allen
Starring: Jeannie Berlin, Steve Carell, Jesse Eisenberg, Blake Lively, Parker Posey, Kristen Stewart, Corey Stoll, Ken Stott
Release Date: Screening out of competition at the 2016 Cannes Film Festival
---
Tim Grierson is chief film critic for Paste and the Vice President of the Los Angeles Film Critics Association. You can follow him on Twitter.