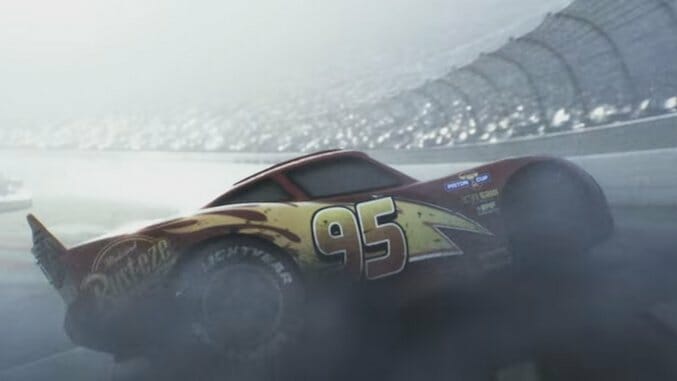 The Cars movies are not good. Argue all you want about the first having redeeming features, but there's no denying that when people talk about Pixar's nigh-perfect track record, the Cars movies are the reason it has to be followed with a, "Well, except for … " But they make a ton in merchandising, so we're getting a third one, and its first teaser is out now.
Surprisingly, the teaser is really dark. It looks to be returning to a more traditional NASCAR-style setting, as opposed to the European format of Cars 2. There's some sort of new sports car flying by everyone and then Lightning goes tumbling end over end with a blown tire. The teaser ends with the tagline, "From this moment, everything will change." The plot description says:
Blindsided by a new generation of blazing-fast racers, the legendary Lightning McQueen (voice of Owen Wilson) is suddenly pushed out of the sport he loves. To get back in the game, he will need the help of an eager young race technician, Cruz Ramirez, with her own plan to win, plus inspiration from the late Fabulous Hudson Hornet and a few unexpected turns. Proving that #95 isn't through yet will test the heart of a champion on Piston Cup Racing's biggest stage!
… Which is more or less the plot of Talladega Nights.
From the crash to the desaturated colors to the ominous tagline, the whole thing seems like a big course correction on Pixar's part from the very un-Pixar-like, over-the-top goofiness of Cars 2. If it's following the mold of the Toy Story movies, then Cars 3 could get very dark (recall the scene in Toy Story 3 where the toys grimly accept the fate of a fiery death together). If the movie is as real as this teaser, then it's a daring tactic for Pixar's biggest cash cow. But if it means Pixar isn't putting out another Cars movie to sully its good name, then go right ahead.
Cars 3 is slated for release on June 16, 2017. Watch the teaser above.