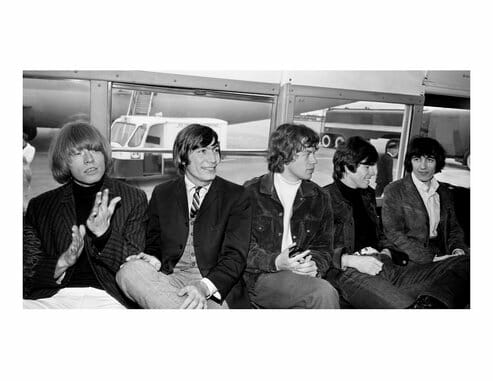 Believe it or not, just like most young bands, there was a time early on in the '60s when The Rolling Stones didn't know how long their rock star careers would last. "We'll probably be around for a year, or a year and a half," says a shaggy Mick Jagger in his early twenties. "Then it'll be over." Fortunately for Mick, he couldn't have been more wrong. The film Charlie is My Darling seems to capture the Stones at a point where they had been famous long enough to be accustomed to the pandemonium that surrounded them, and yet were still a bit perplexed by their status.
In September of 1965, the Rolling Stones did a quick two-city tour of Ireland on the heels of the success of their latest single, "Satisfaction." Inspired by the Beatles Hard Days Night, released the previous year, manager Andrew Loog Oldham hired director Peter Whitehead to film some footage while Glyn Johns recorded the sound. The footage was collected into a 50-minute documentary called Charlie Is My Darling that was shopped the following year but for whatever reason, was never officially released or aired. The reels sat in film cans, largely untouched, for more than 40 years until Because Entertainment and ABKCO Films remastered them.
This hour-long road trip documentary, which premiered at the New York Film Festival in September, features an intimate, behind-the-scenes video diary of 20-something Mick Jagger, Keith Richards, Charlie Watts, Brian Wyman and the late Brian Jones. The footage really humanizes the band, giving us a ride on their train, a couch in their riffing sessions, and a front row seat to their very early concerts. Among the classics on their set, was the first live performance of "Satisfaction" ever caught on film.
Early on in the film, Ireland's fanatical fans remind us of the old Beatles footage after they land to an uproarious crowd in America. (One can almost see the Hard Days Night influence.) These fans love the Stones with all their being, and they don't even have an answer why. In the first concert, fans storm the stage as if it were an act of war. The youthful Rolling Stones maintain their cool, as chaos erupts all around them. Luckily for them, security eventually pulls them off stage and whisks them away to safety. Mass hysteria ensues to the point where women are being carted away off in stretchers. Why you ask? "Physical contact," says former bassist, Bill Wyman. "Just to say I touched so-and-so." An early indication that this band was here to stay.
Some of the really interesting moments come after a few drinks, while Keith and Mick kick back to riff. At first, they began fleshing out the song, "Tell Me." After a while, it comes flowing out, and I began to visualize the scene in Scorsese's Mean Streets, where Harvey Keitel eyes a forbidden African-American dancer. But, the riffs weren't just Stones classics; the off-the-cuff melodies provide an insight as to which artists had influenced them in the first place. If you have ever wanted to see Mick Jagger do a stellar Elvis Presley impersonation, then this is the film for you. (Mick goes on to imitate Dion's "Teenager in Love" and Fats Domino's "Blueberry Hill.")
All in all, Charlie is my Darling reveals that these young men were nothing more than performers, albeit, great ones. Mick, as he says himself, "Is half as egotistical off stage." Whereas, drummer Charlie Watts is a bit more reserved, concluding, "I'm happiest at home." In essence, these were a regular group of kids with extraordinary talent that enabled them to last quite a bit longer than the typical, "year or year and a half."
Any Rolling Stones fan—and quite a few who don't necessarily identify with the band—will find much that is endearing in Charlie is my Darling.
Release Date: Nov. 6 as a Super Deluxe Box Set, as well as on Blu-ray and DVD singles worldwide