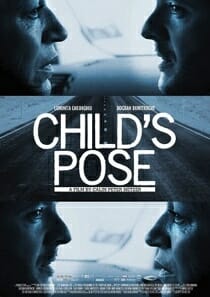 Though it may have lost some of the white-hot critical faddishness it enjoyed in the mid-2000s, Romanian cinema remains one of the new century's most consistently rewarding national movements. The Death of Mr. Lazarescu and 4 Months, 3 Weeks and 2 Days are still its high-water marks, but there's been no shortage of superb follow-ups in recent years, including Beyond the Hills and Tuesday, After Christmas. What these films share is a barebones depiction of modern life—usually rendered over the course of a few days or less—through plots that are deceptively simple and actors whose well-worn faces are so descriptive that they silently convey a world of regret and discontent.
Child's Pose could almost be a "greatest hits" of Romanian tendencies, but its distinctive resonance is such that it transcends familiarity. As with the best of his countrymen's films, director and co-writer Calin Peter Netzer's family saga possesses all the sharp everyday detail, close-quarters drama and nuanced characters of a terrific play. But as is also often the case with Romanian cinema, Child's Pose elevates the commonplace with superb, almost invisible filmic technique, staring at its characters with such intensity that the ordinary becomes surprising and insightful.
The film stars Luminita Gheorghiu—a veteran of The Death of Mr. Lazarescu, 4 Months, 3 Weeks and 2 Days and others—as Cornelia, a middle-aged, upper-crust architect who spends most of her time attending society functions when she's not busy complaining about the fact that her son Barbu's girlfriend isn't good enough for him. But her comfortable life is soon rocked by news that Barbu (Bogdan Dumitrache) has killed a pedestrian with his car. On some level, Cornelia knows that her son is a good-for-nothing loser, but she quickly springs into action to defend him, strategizing how she can help him avoid jail time.
It's not noteworthy that Child's Pose explores the upsetting lengths that a mother will go to look out for her son: The Deep End, Bong Joon-ho's Mother and Andrey Zvyagintsev's Elena all got there first. But what makes Netzer's film striking is how ambivalent it is about its characters' behavior. We're used to films that have a dispassionate view of our morally bankrupt times, but Netzer's drama is subtler and more troubling than that: Here's a movie in which the participants' motivations aren't always clear, not even to themselves.
Though introduced as a woman of privilege, Cornelia isn't a stereotype we can easily peg. She may be rich, but her good fortune hasn't turned her evil—despite some observers' comments that Child's Pose is a condemnation of the bourgeoisie, to these eyes Netzer has too much sympathy for his characters to be so black-and-white in his portrayals.
That hesitation to condemn comes through strongest in Gheorghiu's remarkably controlled performance. Her Cornelia is never an outright loathsome woman, even when she meets with an eyewitness (a superbly calculating Vlad Ivanov, another 4 Months alum) in the hopes of bribing him to alter his testimony. Child's Pose spends most of its running time following Cornelia as she frantically schemes, but Gheorghiu focuses on the woman's maternal concern—the actress never worries about needing to oversell the inherent injustice at play. For most of Child's Pose, Netzer intentionally ignores his story's central tragedy—another family had its son senselessly killed—making us in some ways complicit with Cornelia's desperate strategizing. We don't necessarily root for her, but her conviction makes us wonder if she'll succeed—and how one woman's genuine love for her son should be weighed against the trauma of those who lost theirs.
As Cornelia continues to plot, it becomes clear that such maneuvering isn't without its personal complications. Slowly, Child's Pose fleshes out a portrait of a mother whose own family has been quietly unraveling for years. This isn't the sort of film that one could describe as having huge twists, but each supple turn in the narrative is important for how it reveals new dimensions in the relationship between the characters. As Cornelia's son, Bogdan Dumitrache is every bit as great as Gheorghiu, but his in some ways is the far more difficult performance. Barbu is not a figure of great sympathy—he seems like a spoiled dullard, and not particularly traumatized by what he's done. And yet, there's enough shading to Dumitrache's turn that it starts to raise questions. Is his apathy due to his callousness? Or, rather, does it have something to do with his mysterious resistance to his mother's assistance?
Incorporating handheld cameras and a stripped-down aesthetic, Child's Pose refuses to tell its audience how to feel about what's happening on the screen. Netzer may refrain from judging his characters, but that's not the same as having no opinions about the events being dramatized. Both plainly flawed, Cornelia and Barbu are made for each other, bonded not just by biology but also by a shared sense of disappointment and resentment. But despite the heartbreak at the movie's core, Netzer wants us to recognize that our initial impressions of people aren't always accurate. As monstrous and soulless as these characters can be, Child's Pose isn't quite ready to give up on any of them—or deny them the contradictions that make them recognizably complex. Soon enough, even Cornelia will come to realize that her son's girlfriend isn't as awful as she once seemed.
Tim Grierson is chief film critic for Paste. You can follow him on Twitter.
Director: Calin Peter Netzer
Writers: Razvan Radulescu, Calin Peter Netzer
Starring: Luminita Gheorghiu, Bogdan Dumitrache, Natasa Raab, Ilinca Goia, Florin Zamfirescu, Vlad Ivanov, Mimi Branescu
Release Date: Feb. 19, 2014