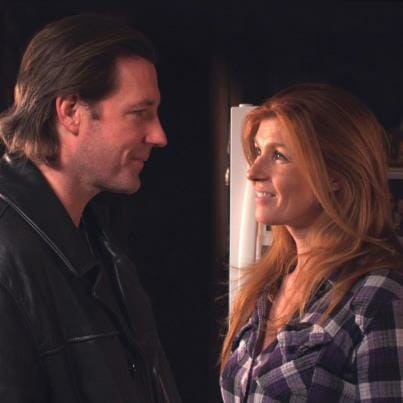 With The Fitzgerald Family Christmas, writer-director-star Edward Burns returns to the Irish-Catholic working-class milieu of his first two films, The Brothers McMullen and She's the One, in the mid-'90s. It marks his 11th outing in the director's chair, and although none has matched the box-office success of his debut, which grossed more than $10 million, Burns' latest demonstrates the workmanlike skill with which he's produced a new relationship drama every one or two years.
In The Fitzgerald Family Christmas, Burns deftly manages the large ensemble cast that makes up the Fitzgerald clan (Mom, Dad and seven adult children, each with families, to varying degrees, of their own) while keeping the plot focused and the stakes high. Ever since his father Jim (Ed Lauter) walked out on the family two decades ago, Gerry (Burns) has lived at home with the Fitzgerald matriarch, Rosie (Anita Gillette), and managed his grandfather's tavern. Well-to-do sister Erin (Heather Burns) has a new baby with her Jewish atheist husband, while successful Quinn (Michael McGlone) prepares to propose to his latest young girlfriend.
Meanwhile, sister Dottie (Marsha Dietlein) is splitting with her husband over her affair with the boy who mows her lawn. Nurse Connie (Caitlin Fitzgerald) discovers she's pregnant—not good news to her volatile, unemployed husband. Sharon (Kerry Bishé) is casually dating a much older rich man (Noah Emmerich). And baby brother Cyril (Tom Guiry) is getting home from rehab just in time for the holidays.
For one reason or another, each sibling elects not to celebrate Rosie's 70th birthday with her on December 23, content to see each other on Christmas Day. But their father is determined to spend the day with the family, despite his ex-wife's 20-year-old vow he would never set foot in the house again.
As Gerry works to get everyone together to discuss their father's proposal, we have to take the characters' word for it on some aspects of the conflict—for example, that Rosie treats Gerry differently from everybody else. (We don't see her with her other kids enough to glean that for ourselves.) But, otherwise, Burns ably introduces each sibling and reveals his or her situation without too much exposition.
In the midst of all this, Gerry meets Nora (a luminous Connie Britton), who provides in-home care for a family friend. Their meet-cute isn't especially magical, so when the relationship moves kind of fast, it feels forced to fit the three-day narrative. Nora fills the role of a sympathetic ear as he works through his frustration with his family. Their dynamic is representative of the script as a whole: It works, but aside from a lovely oblique reference to 9/11 and its lasting effect on New York-area residents' lives, there are just too few sparks, and too many phone calls in lieu of dramatic in-person scenes.
Director: Edward Burns
Writer: Edward Burns
Starring: Kerry Bishé, Edward Burns, Heather Burns, Marsha Dietlein Bennett, Caitlin Fitzgerald, Anita Gillette, Tom Guiry, Ed Lauter, Michael McGlone, Nick Sandow, Noah Emmerich, Connie Britton
Release Date: Dec. 7, 2012