Each month, the Paste staff brings you a look at the best new selections from The Criterion Collection. Much beloved by casual fans and cinephiles alike, The Criterion Collection has for over three decades presented special editions of important classic and contemporary films. You can explore the complete collection here. In the meantime, here are our top picks for the month.
Andre Gregory & Wallace Shawn: 3 Films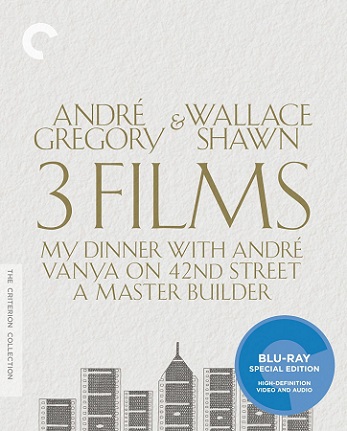 The critical consensus seems to be that while the first two of Wallace Shawn and Andre Gregory's collaborations—My Dinner With Andre and Vanya on 42nd Street, both directed by Louis Malle—have their merits, the third—A Master Builder, directed by Jonathan Demme—is a failure. The critical consensus is wrong. All three of these films are wonders. My Dinner With Andre does play a bit dated, but in a completely fascinating way. It's difficult to imagine a conversation of such erudition and uncynical pursuit of the meaning of life and art even happening today, much less being filmed, and much less being exhibited theatrically. Shawn and Gregory's (and Malle's, of course) take on Chekhov's Uncle Vanya, on the other hand, feels completely of the moment despite its ripe old age of 20 years, and is every bit as thrilling as you remember. Julianne Moore is perfection as Yelena, of course, but you may have forgotten just how marvelous Brooke Smith and Larry Pine are as Sonya and Dr. Astrov. When it came time to adapt Ibsen's Master Builder, the great Louis Malle was, of course, not available to partner with Shawn and Gregory again, having passed away shortly after the filming of Vanya. But Jonathan Demme proves a more than capable pinch hitter, and the result is a translation of a very difficult play to a medium that somehow suddenly seemed suited to it all along. Demme taps into the surrealism of the situation, and his claustrophobic shooting dramatically emphasizes the slowly closing circles around the characters. They're bold choices, but ultimately successful ones. And at any rate, the cast here, as with Vanya, includes more accomplished actors than any stage production that most audience members will likely have an opportunity to ever see in person. So where's the gripe? Especially with the wealth of extras offered in this set—essays, long-form interviews new and old, and even a full documentary on the making of Vanya. -Michael Dunaway
---
The Bridge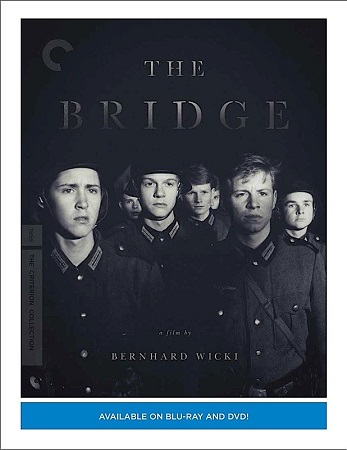 Directed by Bernhard Wicki, who became known more for his acting than filmmaking, The Bridge follows a group of teenagers that joins the Nazi regime near the end of the second World War. Even though the war is nearly over, these unprepared and naive young men are assigned the mundane task of guarding a bridge, only to surprisingly discover the horrors of war. A historical spectacle, Wicki's film remains the first anti-war effort to come out of Germany after the war and the first German post-war film to reach international audiences. It also garnered an Oscar nomination for Best Foreign Language Film. For this reason alone, along with some beautiful cinematography and stylishly choreographed battle sequences, it's hard to avoid this 1959 West German war film. That said, given the flat characters, sluggish pacing and trite plotlines, the film proves far easier to appreciate than to actually enjoy. Little has been written on The Bridge, and Terrence Rafferty's insightful essay that comes with this new Criterion release is a great bonus. -David Roark
---
The Fisher King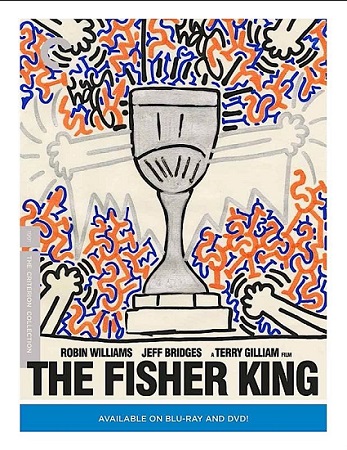 Terry Gilliam may be best known for his completely inimitable style. Tune in to a Gilliam flick even halfway through and you'll recognize his signature repertoire of angles—low, high, and Dutch—as well as his love of rectilinear lenses and his meticulously stylized mise en scène. With The Fisher King, though, his distinct aesthetic was transplanted from realms imagined to the far more familiar backdrop of Manhattan, where shock jock Jack Lucas falls from grace after an on-air rant leads an impressionable listener to commit mass murder. Jack is given a chance at redemption when he meets Parry, a delusional vagrant questing for the Holy Grail whose wife died in that aforementioned shooting spree; they bond, and Jack sets out to help Parry score a date with his distant crush, Lydia. The Fisher King wrestles with Brazil for the title of "best Gilliam film," but it's almost undoubtedly the most refined entry in his body of work, a contemporary epic that truly lives up to the meaning of the word. Come for Jeff Bridges and Robin Williams, stay for the Gilliam commentary track. -Andrew Crump
---
Valerie and Her Week of Wonders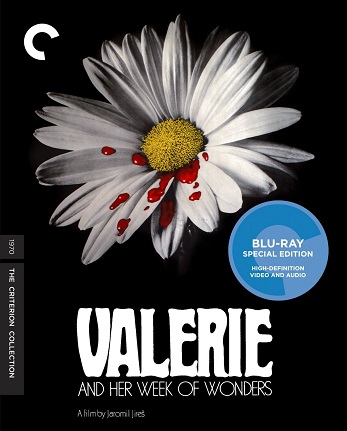 Over the course of seven days, a young girl on the precipice of womanhood is hounded by a vampire, menaced by a pervy priest, and romanced by a handsome young chap who may or may not be her sibling. That's quite a packed slated for a 76-minute film. But the full breadth of lovely weirdness in Jaromil Jireš' Valerie and Her Week of Wonders can't be easily captured through any number of words. Put simply, it's a treasure trove of delights for any lover of the surreal, and a must for fairy tale connoisseurs. (Most of all, it's gorgeous from start to finish.) Sexual politics make up the center of this lyrical little pohádka; Valerie is both preyed on and protected by her femininity. There's a mother lode of symbolism that can be mined out of Jireš' work here, but the film baffles on first viewing and demands one's utmost attention. Luckily, it has great rewatch value. Even better: Jana Prikryl's excellent, illuminating essay, which dissects both Valerie and Her Week of Wonders and Jireš' work in the Czech New Wave. Movies like this are why The Criterion Collection exists. -A.C.