EDM Maestro Danger on Anime Influences, a New Album and What Lies Behind the Mask
Movies
Features
Danger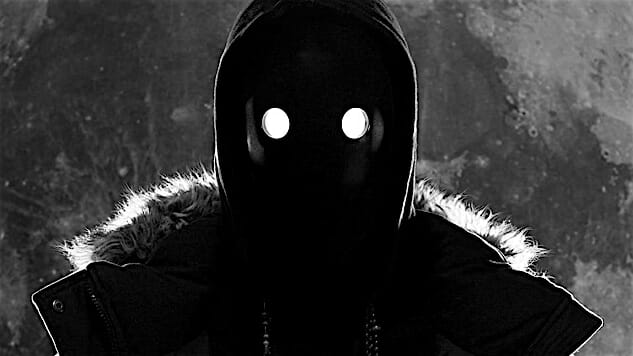 If you've never heard of musician Franck Rivoire, that's to be expected. Rivoire, better known by his masked nom de plume "Danger," is as aloof and immaterial as his persona, despite having been producing and touring across the world for just shy of a decade. A wraith conjured from out of a vein of cinematically charged EDM, skulking silently through dense jungles of bass and tremble. Heralded as an heir apparent to the likes of Daft Punk and Giorgio Moroder, Danger has been steadily growing his fan base and fueling his mystique through a drip feed of well-received EPs, high-profile remixes for acts such as The Black Eyed Peas and Empire of the Sun, and a slew of demos and radio rips apocryphally scattered across the far corners of the internet.
Now, after a prolonged stint of live performances, Danger is ready to reveal himself on taiko, his first full-length album. Pulling from his long-time inspirations of anime, film and orchestra, the release and its accompanying worldwide tour seem poised to ensure that 2017 the busiest year of his career yet. Paste had the opportunity to speak with Danger about his favorite anime, the musicians and artists who inspire him, and what the future holds for his mysterious alter-ego…
Paste: Describe your first introduction to anime. What was it about that initial encounter that caught your attention, or left its impression on you?
Danger: The first anime extract I saw was in a TV documentary about Japan. There were extracts of Robot Carnival,Angel's Egg and Akira. I was impressed and scared by these images. The first anime that I saw in movie theater in France was Ghost in the Shell.
Paste: As for contemporary anime, what have you been watching lately, if at all? What creators do you think audiences should pay attention to, in your opinion?
Danger: I think I would say Shingeki no Kyojin (Attack on Titan), Zankyou no Terror (Terror in Resonance), and T?ky? G?ru (Tokyo Ghoul) are my favorite modern anime. I love the richness and diversity of their art styles and stories.
Paste: How do you feel that anime has changed since you first introduced to it? Do you have a particular preference for one era over another? If so, why?
Danger: '80s anime are very interesting to me, as it was the first generation of anime and manga that were available in Europe and in U.S.
Paste: Who are some notable anime directors or composers who have inspired you? Were you at all inspired by the works of Shoji Yamashiro (Akira) or Kenji Kawai (Ghost in the Shell)?
Danger: Yes, these masters were big references in developing my sound. I was also influenced by Amiga/Commodore composer Chris Hülsbeck, Nobuo Uematsu, etc. I recently made a Spotify Playlist retro/modern videogame music that was fundamental to my youth.
Paste: In 2010 you collaborated with Koji Morimoto, composing the title track for his interactive anime short "Attraction" commissioned by the French Ministry of Health. What was that experience like? Would you ever consider scoring another anime in the future?
Danger: It's truly the ideal scenario for me and my music. That's something I would love to compose for more often. I'm a big fan of the author of Attack on Titan.
Paste: Over the years, a loose mythology has sprung up surrounding your visuals and music. A black pyramid hidden deep in a jungle, song titles written in hours and minutes. Does that loose continuity culminate here in taiko? Where do we find ourselves now in that story?
Danger: I think as each one of us interprets music differently. I consider my artwork with the same approach. I don't think about a story. These artworks are just fragments of dreams I've had. Then with the music, I think everybody could make up their own story. I prefer loose iconic imagery over full-fledged plot-lines [to accomplish] what I want out of the Danger aesthetic/world.
Paste: With taiko, you've said that you are finally "ready to tell a more personal story with a fully thought-out format." What kind of story are you trying to tell through this album, versus your previous Eps?
Danger: Innocence and violence, tribal vs cyber, forest vs city…
Paste: As a graphic designer who designs all their own visuals, you're known for being one of the first artists to incorporate elements of visual static, scan lines, and digital artifacting in your album/promotional art. In your opinion, as a designer, what is it about the limitations of old media that makes it such an enduring aesthetic?
Danger: I just think musicians, artists and audiences gravitate to anything that represents or embodies the feeling of nostalgia.
Paste: In an interview with Stop The Noise, you scoffed at the idea of an American-produced Akira remake, produced by Leonardo Dicaprio's Appian Way. What were your thoughts on the recent live-action Ghost in the Shell film?
Danger: I saw the movie. I will say that it was a challenge to do a remake of what I consider is a monument in manga and anime culture. A little bit like rebooting Kubrick's 2001 space opera. I was curious about how the director Rupert Sanders would manage to shoot in an "anime" style.
Paste: You've stated in the past that the moniker of "Danger" predates your time as a musician and that the reason you took up wearing the mask was to differentiate your "shy producer" self from the persona you assume on-stage. Ten years later, does this still hold true? Where does the line between you and your music end? Who, or what, is "Danger" to you?
Danger: It's pretty common for an artist to create an alter ego, especially when you are on stage underneath a mask, even if it always changing as I'm changing too. I could say that my alter ego is a mix of childhood monster, half boy and half girl, a mythological, mysterious creature…
Paste: What does the future hold for the Danger project? Do you have any plans to pursue other projects outside your music? Perhaps producing a film yourself, or a videogame?
Danger: I started my label 1789 records in 2013, which is a platform that allows me to produce all different sorts of music/art/video projects with my close artists and friends. I created "SUNSET" a dark electro x french poetry crossover,and now we're working on "LIL BRAIN" which is an A.I.-driven RnB vocal project—featured in my album. With the album release going, I'd love to sign more artists and produce more videos and films, and videogames for sure.
(taiko is available for purchase on iTunes, Amazon, Spotify and Google Play.
---
Toussaint Egan is a culturally omnivorous writer who has written for several publications such as Kill Screen, Playboy, Mental Floss, and Paste. Give him a shout on Twitter.