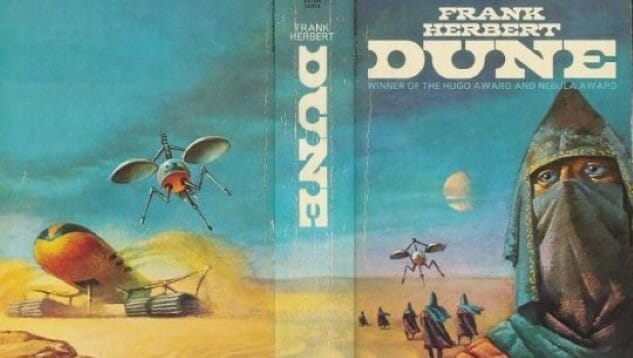 Denis Villeneuve is Hollywood premiere auteur or the moment. After arriving with a splash in the American film market with Prisoners and Sicario, he gained critical acclaim and his first Oscar nomination for 2016's Arrival. This year, his reboot of Blade Runner drew more critical acclaim for its gorgeous visuals and moody, mind-bending story, all but guaranteeing a second Oscar nomination come awards season. And next, Villeneuve has his eyes set on another holy grail of science fiction: Frank Herbert's Dune.
The 1965 novel by Herbert is, with no exaggeration, one of the most important science fiction novels ever written—often cited as having the same kind of influential impact within sci-fi as The Lord of the Rings does within fantasy. It has been adapted twice, first in 1984 by David Lynch in a memorably trippy film featuring the likes of Sting and Kyle MacLachlan, and then again by the Sci Fi Channel in a (surprisingly decent) 2000 mini-series with Susan Sarandon and William Hurt. There was also one additional, earlier attempt to adapt Dune in the 1970s by experimental Chilean filmmaker Alejandro Jodorowsky, but his overly ambitious project ended up falling apart, only to become the excellent 2013 documentary, Jodorowsky's Dune.
Now, it's Villeneuve's turn to put his stamp on things with the benefit of modern FX—but the director says he won't be looking toward Lynch's Dune for inspiration. Instead, he'll be making "the adaptation of his dreams," returning to the original source material for inspiration, which he fell in love with as a teen.
"David Lynch did an adaptation in the '80s that has some very strong qualities," said Villeneuve in an interview with Yahoo. "I mean, David Lynch is one of the best filmmakers alive, I have massive respect for him. But when I saw his adaptation, I was impressed, but it was not what I had dreamed of, so I'm trying to make the adaptation of my dreams."
"It will not have any link with the David Lynch movie. I'm going back to the book, and going to the images that came out when I read it."
We can't wait to see what kind of fantastical imagery this modern master manages to conjure up. The new version of Dune can't get here soon enough.