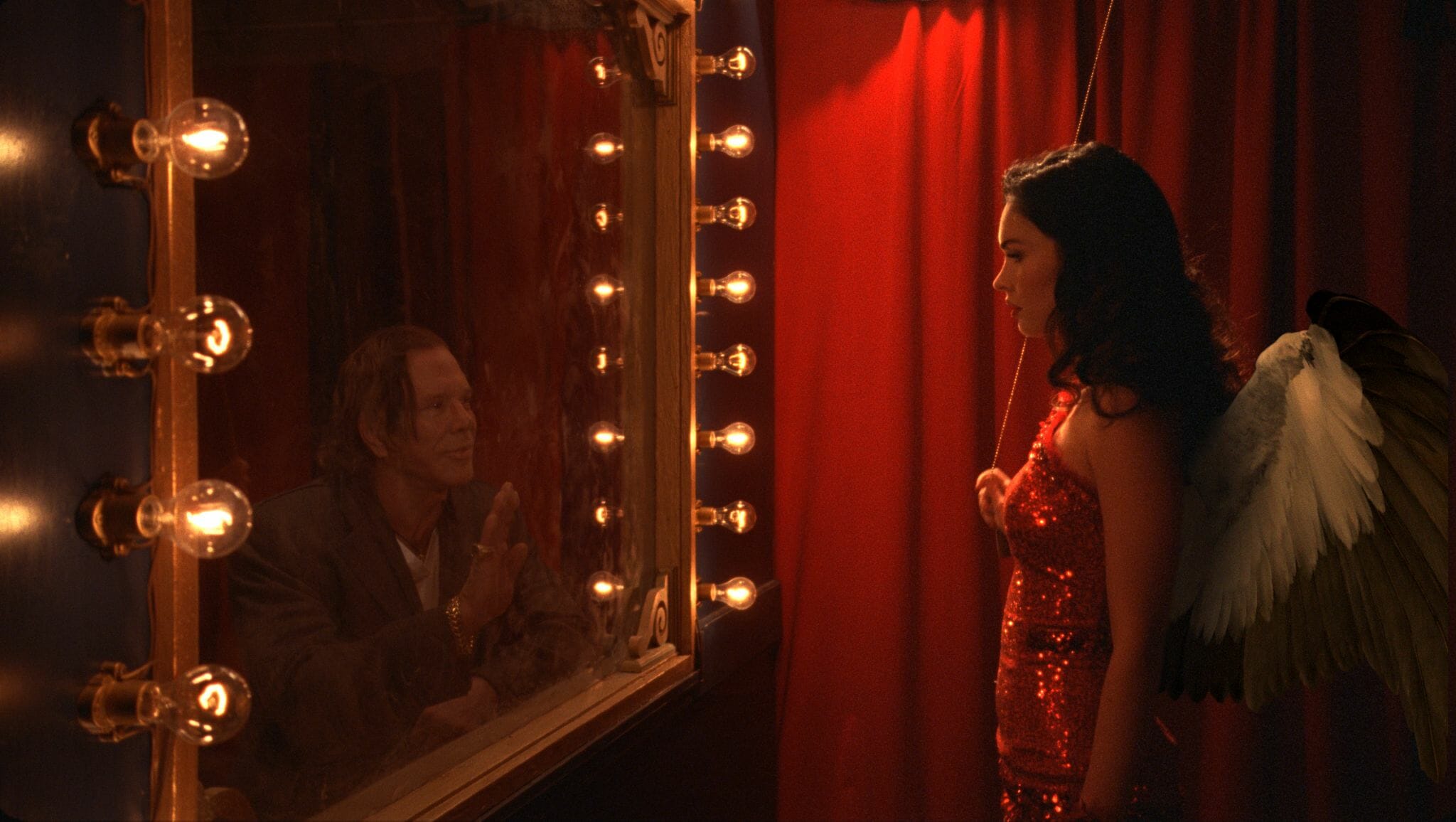 Writer/Director: Mitch Glazer
Cinematographer: Christopher Doyle
Stars: Mickey Rourke, Megan Fox, Bill Murray
Studio: Image Entertainment
Despite a gorgeous poster, a beautiful object of affection and two cult-worthy actors, Mitch Glazer's directorial debut Passion Play fails to fully form itself from a poetic personal project into a fully realized film.
Passion Play follows Nate Pool (Mickey Rourke), a jazz man at life's crossroads who stumbles across a carnival in the middle of the desert. He comes to the rescue of the carnival's main draw, the freak show's "Lily" (Megan Fox)—a woman burdened with beautiful wings—and is faced with the choice to love and defend his recent acquisition and start a new life, or to use her to curry favors and settle scores with a long-time rival (Bill Murray) in order to clean up his old life.
Following the hard-earned success of The Wrestler, Rourke has leveraged his Oscar nomination for a dozen projects in which he lacks purpose. While the film's helmer refers to Rourke as a friend, the actor seems to do little more than phone it in on a film in which he appears predominantly concerned with looking fashionable.
As gangster Happy Shannon, Murray appears to be channeling Robert Evans or Karl Lagerfeld. While showdowns between Happy and his onscreen rival fail to deliver the sparring wizardry one hopes for with this sort of match-up, Murray's iconic comic sensitivities can't be altogether suppressed. Glazer wrote for Murray on Scrooged and was also a producer on Lost in Translation, and familiarity works in the director's favor.
Australian cinematographer Christopher Doyle (Rabbit Proof Fence, Hero) makes Passion Play worth a look, and the sight of a lily white Megan Fox replete with working wings is stunning. For a rarely lauded actress, she brings a quiet simplicity to the role that is encouraging.
Despite his record as a successful screenwriter, this first time director relied on and trusted in his central hero to bring his A-game and was let down with a dishonest performance, robbing the film of its intended impact. Glazer, in his defense, attempted to make something artistic, poetic and pretty. But he doesn't fully succeed and commercially, that's a recipe for disaster.
The former editor-in-chief of Moving Pictures, Elliot Kotek is an entertainment correspondent for ABC Radio, has served on the juries of several international film festivals, was a film expert for Reelzchannel and co-hosted Film Independent's Spirit Awards pre-show on IFC. From time to time, he also makes movies. He prefers Milk Duds.