Disney to End Deal With Netflix, Launch Its Own Streaming Service
Photos by Michael Loccisano/Getty, Jesse Grant/Getty
Movies
News
Disney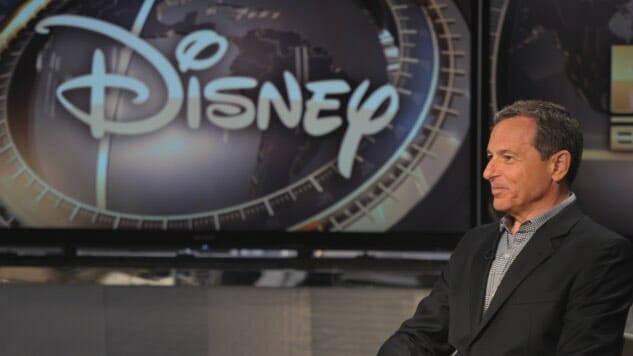 In a significant blow to Netflix's dominance of the streaming entertainment landscape, Disney is ending its distribution deal with Netflix, which gave the streamer exclusive rights to new Disney, Pixar, LucasFilm and Marvel movies. Disney will launch a streaming service of its own in 2019, the entertainment giant announced today.
Disney explains its new streaming service as follows:
The new Disney-branded service will become the exclusive home in the U.S. for subscription-video-on-demand viewing of the newest live action and animated movies from Disney and Pixar, beginning with the 2019 theatrical slate, which includes Toy Story 4, the sequel to Frozen, and The Lion King from Disney live-action, along with other highly anticipated movies. Disney will also make a significant investment in an annual slate of original movies, TV shows, short-form content and other Disney-branded exclusives for the service. Additionally, the service will feature a vast collection of library content, including Disney and Pixar movies and Disney Channel, Disney Junior and Disney XD television programming.
The move is sure to disappoint Netflix shareholders and subscribers alike, although the streamer's ties to Disney have by no means been entirely severed. "We continue to do business with the Walt Disney Company on many fronts, including our ongoing deal with Marvel TV," a Netflix spokesperson told The Verge. Plus, Netflix still has another year and change of streaming new Disney releases, which should be good for at least another Star Wars or two.
Disney's streaming service will be built on technology from BAMTech, LLC—"a global leader in direct-to-consumer streaming technology and marketing services, data analytics, and commerce management"—of which Disney acquired majority ownership in a $1.58 billion deal, also announced today. The company will use BAMTech's … tech to launch an ESPN-branded, multi-sport video streaming service in early 2018, as well.
Though it's surprising to see Netflix take an L of this magnitude, this move makes a mountain of sense for Disney. The company's massive library of beloved movies and TV shows is sure to prove an irresistible draw for many, many streaming subscribers.