A Marriage Comes Crashing Down in First Trailer for Downhill, Starring Will Ferrell and Julia Louis-Dreyfus
The U.S. Force Majeure remake arrives on Feb. 14, 2020
Photo by Jaap Buitendijk/Fox Searchlight
Movies
News
Downhill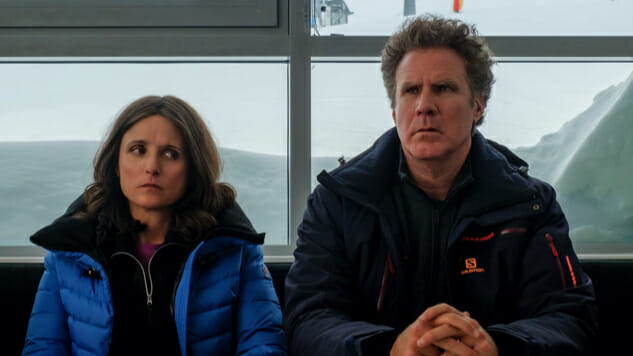 The inciting incident of Ruben Östlund's 2014 dark comedy Force Majeure—and of its forthcoming American remake, Fox Searchlight's Downhill—is likely familiar to you, whether you've seen the Swedish original or not. A vacationing family, relaxing on the deck of a ski resort, suddenly find what looks like an avalanche bearing down on them—the father waves off the problem until the very last moment, then leaps to safety, leaving his wife and children to fend for themselves. The scene went viral over the summer, actually, with many on social media mistaking it for real footage.
Me watching a bad situation and doing nothing till the final hour: pic.twitter.com/C4HC58sD7y

— Dirty Diana (@zama_mdluli) June 4, 2019
Now, Fox Searchlight is hoping everyone who got a kick out of that clip will feel similarly about an American iteration of the film it came from: Downhill stars Will Ferrell as the cowardly husband and Julia Louis-Dreyfus as his neglected wife, whose marriage is thrown into disarray as a result of the above incident, forcing them to reevaluate their lives and their feelings for each other. (In this version, the Ferrell character reaches for his phone in his moment of panic, a clever little addition.) The film opens on Valentine's Day, natch, and features supporting performances from Zach Woods, Zoë Chao, Miranda Otto and Kristofer Hivju.
Although many familiar with Östlund's acclaimed original have protested the notion that it ought to be remade, it's nigh-impossible to argue with the talent behind Downhill, particularly the dynamic duo of Ferrell and Louis-Dreyfus, whose resumés speak for themselves. The comedic forces behind Ron Burgundy and Selina Meyer are perfectly cast as the blithe man-child and woman scorned, respectively. Oscar-winning The Descendants screenwriters Nat Faxon and Jim Rash—who co-direct Downhill, their second such effort after 2013's The Way Way Back—adapted the film's screenplay alongside Succession creator Jesse Armstrong, practically guaranteeing an acid-tongued, brutally funny script. And Louis-Dreyfus is also onboard as producer, as are Anthony Bregman and Stefanie Azpiazu.
Downhill opens Feb. 14, 2020. Watch the trailer below.