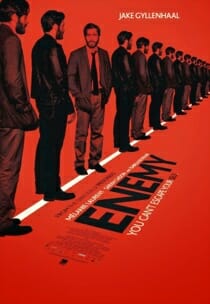 The chance to portray twins or at-odds characters in a single film is catnip for actors of a certain level of ambition, though not without potential pitfalls. The impulse to chew scenery or present grand differentiation is often difficult to resist. Enemy, though, which reteams Jake Gyllenhaal with Prisoners director Denis Villeneuve (though it was actually shot before that film), finds the actor trading in similarly subdued and thoughtful tones as he did in that kidnapping drama. And, adapted from the late Nobel Prize-winning author José Saramago's 2004 novel, The Double, the film offers up more than just a meaty pair of roles for Gyllenhaal. A woozy, danger-infused rumination on identity that triggers tripwires of personal panic and awakened sexual compulsion, Enemy is like a cold glass of water to the face of cinematic formalism.
Adam Bell (Gyllenhaal) is a glum and distracted history professor at a small-time Canadian college whose relationship with his girlfriend, Mary (Mélanie Laurent), seems to be winding down, locked as he is in the throes of dark proclivities he can't express. Watching a movie recommended by a coworker, he spots a bit-part actor named Anthony Clair (Gyllenhaal again) who looks exactly like him. At once confused and oddly bewitched, Adam goes to great lengths to track down Anthony, who lives in another city with his pregnant wife, Helen (Sarah Gadon), and seems to have quit acting. Then he contacts him. Naturally, Adam initially comes off as a crazed fan or stalker, but eventually Anthony feels compelled to take him up on his suggestion that they meet, and a complex psychosexual game ensues that has consequences for all.
On a purely narrative level, doppelgänger mysteries of this sort can only really break a couple ways, unless a writer gets caught up in their own quest for dizzying twists merely for twists' sake. Enemy doesn't do that. It has a fairly definitive "reading," but one that still allows for plenty of interpretation around the edges. Its mesmeric telling, though, is an act of artful elevation.
Through it all, Villeneuve exudes a masterful sense of control and purpose. It's a high-wire act, but the filmmaker and his fine stable of collaborators strike a keen balance between muted realism and something artier and more unnerving. The sound design, by Oriol Tarragó, luxuriates in quiet expanses, giving plenty of eerie space to original music from composers Danny Bensi and Saunder Jurriaans, which incorporates throbbing drops of bass mixed with icy piano notes. Cinematographer Nicolas Bolduc, meanwhile, embraces a desaturated visual palette that at times feels splashed with brown mustard, which in turn complements austere production design by Patrice Vermette.
Saramago, whose novel Blindness was also adapted into a film (directed by Fernando Meirelles), is a writer who often traffics in incredible scenarios, plumbing them for maximum allegorical value while maintaining an empathetic feel for his characters. That certainly describes the basic impression of Enemy, though Villeneuve and screenwriter Javier Gullón play up the interior mystery a bit more, interweaving various signifiers into their tale. The result is in certain ways a mood piece. Yet it possesses hearty ribbons of intrigue that strongly recall some of the thematic preoccupations of David Lynch and Stanley Kubrick, and never in a way that feels counterfeit or tonally insincere. Even if portions of it unfold in a haze, everything in Enemy seems to make some measure of sense, improbably enough. The fact that the movie ends with a ballsy symbolic flourish only feels even more right.
Of course, none of this would much matter if Enemy was hung on the peg of an actor with less command of his craft than Gyllenhaal. His performances, as both Adam and Anthony, are smart, modulated turns firmly attached to subtle but recognizable internal turmoil. As fantastical as Enemy is at certain moments, Gyllenhaal, along with Villeneuve, brings the stark horror of this psychological grappling match to life. And it's utterly absorbing.
Brent Simon is a regular contributor to Screen Daily, Paste, Playboy, Magill's Cinema Annual and ShockYa, among many other outlets. A former three-term president and current member of the Los Angeles Film Critics Association, Simon can be followed on Twitter and on his blog.
Director: Denis Villeneuve
Writer: Javier Gullón, based on the book The Double by José Saramago
Starring: Jake Gyllenhaal, Mélanie Laurent, Sarah Gadon, Isabella Rossellini
Release Date: Mar. 21, 2014