Regression Trailer Has Ethan Hawke as a Detective and Emma Watson as the Dame
Image via YouTube
Movies
Video
Ethan Hawke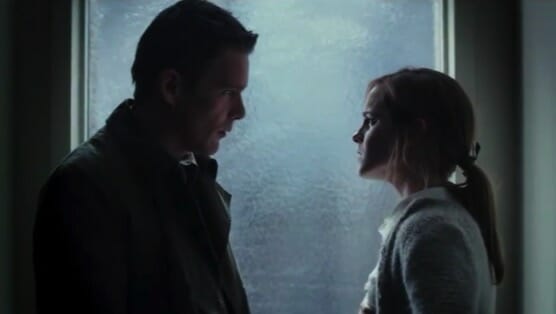 A trailer for the upcoming thriller Regression has been released. There's not much to go by from this teaser, but it appears that Ethan Hawke is a detective investigating a case that Emma Watson's character is involved in and it's all very mysterious, not only to the characters in the film but to the audience as well because the trailer really doesn't reveal much.
We hear the title of the film mentioned in the trailer regarding a suspect, whether or not it is referring to Watson is unclear. In the world of psychology, regression is the reversion to a former or less adapted state of behavior. What this means in regards to the case Hawke's character is investigating is not specified, but Watson's character clearly has something to do with the investigation saying ominous things like, "They'll kill me" and "They'll kill you too." Hawke's characters has his ominous moments as well stating, "I just get the feeling with this case that it's a part of something … bigger." Dun dun dun! Bring on the cliches.
The trailer itself is cut to come off as your typical thriller with mysterious suspects, a bunch of unanswered questions, a cop who's going in over his head, a montage of scenes with a ticking sound in the background, and a phone call where it's silent on the other end and then they hang up. Whether or not this film will be any good is up in the air as thrillers tend to be either very, well, thrilling or disappointing duds.
Regression comes out Aug. 28.