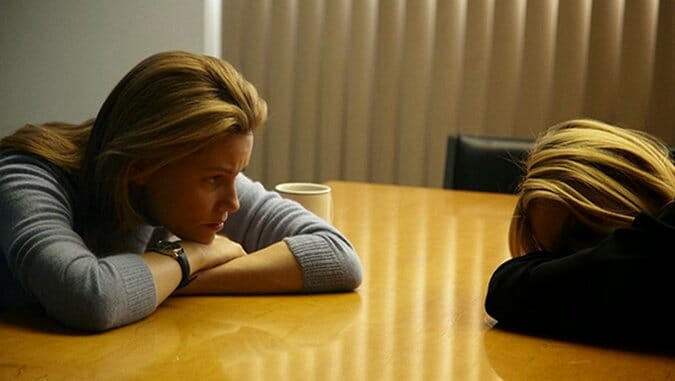 It makes perfect sense that Every Secret Thing is Amy Berg's first foray into directing fiction. The film treads territory to her best-known documentaries—Deliver Us From Evil and West of Memphis—unbelievably real-life crime thrillers in which children are victims and/or alleged perpetrators of heinous acts. Based on a best-selling novel by Laura Lippman, the film diverges from Berg's previous works by leaving little to the imagination: While it commendably explores gender roles, body image and motherhood, Every Secret Thing, replete with over-expository narrative and tidy ending, is more akin to a weekly television police procedural than a cinematic, psychological thriller.
The film opens in flashback as an 11-year-old Alice (Brynne Norquist) and her mother Nancy (Diane Lane) spend a quiet evening at home. Nicole Holofcener's script ensures that the audience is aware that something's amiss in this seemingly idyllic scene: Alice makes excuses to stay up past her bedtime and conspicuously asks her mother the time—twice. The uneasy tranquility is broken by a late-night knock at the door, opening to young Ronnie (Eva Grace Kellner) frantically apologizing for or confessing to…something. Adding to the mood is cinematographer Rob Hardy's use of a dark—almost too dark—sepia-like palette, which only lightens a touch during later scenes.
The film then volleys us between past and present, and we learn that the two girls were convicted of kidnapping and murdering a baby. Another child goes missing soon after the girls are released from a juvenile detention facility, and Detective Nancy Porter (Elizabeth Banks) is forced to revisit one of her most emotionally difficult rookie cases. Porter must now contend with an older Ronnie and Alice (Dakota Fanning and Danielle Macdonald, respectively), who've had little contact with each other since their incarceration.
As anyone who's watched an episode of Law & Order or anything on the Investigation Discovery channel, the first 48 to 72 hours are crucial in missing child cases, so Porter and her partner (Nate Parker) race against time to find the kidnapped. Porter's search uncovers not-so-shocking secrets and truths about Ronnie, Alice and Nancy, as well as their involvements in both cases. Both babies, it's emphasized, are from mixed-race households and different social classes, but these details are treated perfunctorily, missed opportunities to explore such themes in depth.
The pedestrian plot notwithstanding, what's more surprising is the missing spark from Holofcener's usually crisp dialogue, found in her dramedies Enough Said, Lovely & Amazing or Please Give. While there are moments—such as when the overweight Alice rebuffs Nancy's suggestion to work at a fast food joint with "I don't believe in what they're doing"—those lines are few and far between.
In fact, the issue of body image plays an important part in Alice's relationships with Nancy, who's disappointed with her daughter's physique, and Ronnie, who's of a lower income and social bracket, but has a "cute figure" that Nancy values. Alice's jealousy of her mother's relationship with Ronnie is understandable, and such mother-daughter dynamics are skewered throughout Every Secret Thing—Ronnie's mom is probably a junkie, too—"mommy issues" feeding into the girls' actions.
It's refreshing to see a women-centric procedural of this sort, and Diane Lane provides a nuanced performance as a controlling mother who doesn't want to look like a control freak to the outside world. Dakota Fanning also continues to prove she's an incredibly versatile, if still young, performer, conveying Ronnie's emotional pain with just a look—no words necessary. Newcomer Macdonald's Alice is trickier to pin down: She's childlike one minute and sinister the next, but we're not quite sure what to believe until the film's final revelations. In her straight dramatic role, Elizabeth Banks doesn't have a lot of room to stretch. Detective Porter was deeply affected by the first kidnapping case and becomes obsessed with solving the latter, but neither Berg nor Holofcener provide the audience any clues to her psyche. It's all surface for Porter, which is a shame because Banks's talents are wasted here in this run-of-the-mill cop role.
Missing from Every Secret Thing are blood and guts—and not necessarily gruesomeness, but the raw edge that should accompany such a dark and sordid tale. Instead, Berg focuses on the mundaneness of the characters' lives, investigating how long-buried lies always surface, which to her credit is a worthwhile endeavor. Not forgivable, however, is the lack of suspense as the film drives toward its payoff. The thing about crime thrillers of this sort? You have to want to find out what happens in the end.
Director: Amy Berg
Writer: Nicole Holofcener, based on the novel by Laura Lippman
Starring: Elizabeth Banks, Dakota Fanning, Diane Lane, Danielle Macdonald,
Common, Nate Parker
Release Date: May 15, 2015 (in theaters and VOD)
---
Christine N. Ziemba is a Los Angeles-based, freelance pop culture writer and regular contributor to Paste. You can follow her on Twitter.