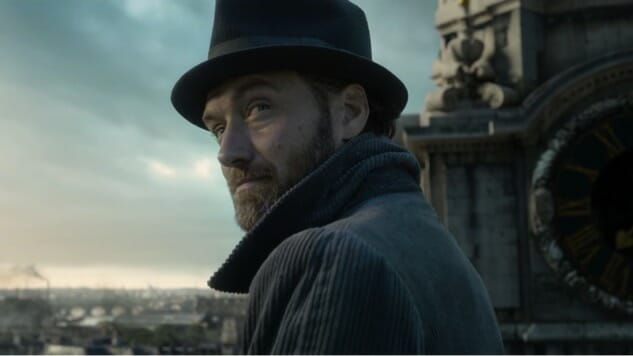 The final trailer for Fantastic Beasts: The Crimes of Grindelwald has hit the web this morning, and it gives rabid Potter-fans a much more detailed look at both Jude Law's Dumbledore and Johnny Depp's Grindelwald. It's fascinating to see the film draw close to its Nov. 16, 2018 release date, especially after so much effort and protest was lodged against the continued presence of Depp, following domestic abuse allegations. Warner Bros., however, chose to stand their ground—we'll see if it actually effects the film at the box office.
The sequel to 2016's Fantastic Beasts and Where to Find Them, The Crimes of Grindelwald once again follows naturalist Newt Scamander as played by Eddie Redmayne, but it will be difficult for even the franchise's central character to not be overshadowed by both the villain and the returning presence of the beloved Albus Dumbledore. Coupled with the fact that some of this film will take place at Hogwarts, fans are salivating about the numerous Harry Potter connections likely to be contained therein. Here's your full plot synopsis:
At the end of the first film, the powerful dark wizard Gellert Grindelwald was captured by MACUSA (Magical Congress of the United States of America), with the help of Newt Scamander. But, making good on his threat, Grindelwald escaped custody and has set about gathering followers, most unsuspecting of his true agenda: to raise wizards and witches up to rule over all non-magical beings.
In an effort to thwart Grindelwald's plans, Albus Dumbledore enlists his former student Newt Scamander, who agrees to help, unaware of the dangers that lie ahead. Lines are drawn as love and loyalty are tested, even among the truest friends and family, in an increasingly divided wizarding world.
The trailer certainly seems action packed, with both a fair amount of magical combat and dueling, as well as many more magical creatures we didn't witness in the first go-round. Could The Crimes of Grindelwald surpass the first installment in the series? It certainly seems to be aiming even higher, from an FX angle.
Check out the trailer below. The Crimes of Grindelwald hits theaters on Nov. 16, 2018.