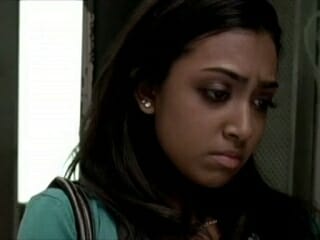 Writer-director Shundell Prasad explores the little-known Indo-Guyanese culture in her first feature, Festival of Lights. Through the story of a troubled teenage girl and her journey to discover her family's history, Prasad tries to call attention to the larger socio-economic and political issues that displaced immigrants face in both the U.S. and other countries.
Those familiar with the South American country of Guyana, mostly associate it with cult leader Jim Jones and the People's Temple massacre in 1978. But Festival of Lights, set just a few years after Jonestown, refreshingly never touches the topic, instead keeping focus on the travails of Guyana's largest ethnic group.
The film opens with a joyous Hindu celebration of Diwali, the five-day festival of lights that commemorates the return of Lord Rama from exile and the vanquishing of the demon-king, Ravana. It's an important festival for the Indian community, who first arrived in Guyana in the 1800s as indentured servants on sugar cane plantations. Yet, despite their independence a century later, their descendants are still treated as second-class citizens, subject to poverty and ethnic conflicts with the Afro-Guyanese people.
Celebrating Diwali is a young family: Vishnu (Jimi Mistry), his wife Meena (Ritu Singh Pande) and their young daughter, Reshma. Their happiness is short-lived because of the violence that plagues their neighborhood. When trying to emigrate to the U.S. legally, an immigration officer discovers that Vishnu, an idealistic immigration crusader—a revolutionary—has failed to disclose a previous deportation from Canada. The officer offers the family a choice: With a sponsorship from Meena's brother, she and Reshma can leave for America now, or they can reapply as a family again in five years. To ensure a better life for their daughter, the parents choose the former option.
At first, Meena struggles in New York, starting a new life in a foreign country without her husband. Fast-forward a dozen years, and Meena's married her boss Adem (Aidan Quinn), raising their daughter, Sandy, in comfort and luxury. Unfortunately, teenage Reshma has not adjusted as well.
Played by Guyananese-Canadian actress Melinda Shankar (best known for a role on Desgrassi: The Next Generation), Reshma is a hellion—an obnoxious New York teen who parties too much with the wrong crowd. She despises her mother for betraying Vishnu (whom she hasn't seen him since leaving Guyana) and decides to go back to Guyana to find her father, unraveling secrets about his political background and her family's past.
Prasad's film is rife with symbolism: It's probably not a coincidence that Reshma's father is named after the Hindu god Vishnu, protector of the universe, and that the themes of Diwali mirror the family's own journey across countries and cultures.
Unfortunately, the exploration of politics and relationships aren't fully fleshed out under Prasad's unsure direction. The story is uneven, getting too caught up in Reshma's typical American teenage hijinks, while rushing through more interesting scenes set in Guyana. It seems much too easy for Reshma to locate her father, considering she's an 18-year-old girl navigating another country's political system. (This is the mid-'90s—Google wasn't around yet.) There are also a number of throwaway scenes that do nothing to reveal character motivation or move the action along.
Acting by some of the younger members of the supporting cast is amateurish at best, but there are flashes of brilliance among the lead performances that are brimming with emotion. In a key scene towards the ends of the film, Meena (with Adem nearby) sees Vishnu for the first time in years. There's very little dialogue, but the look of regret, longing and disappointment shared between the former couple is heartbreaking—if only there were more moments like it throughout the film.
Director: Shundell Prasad
Writer: Shundell Prasad
Starring: Melinda Shankar, Jimi Mistry, Aidan Quinn, Ritu Singh Pande and Stephen Hadeed Jr.
Release Date: Nov. 2, 2012