A 23-Year-Old Will Smith Is Digitally Recreated in New Gemini Man Featurette
Image via Paramount Pictures/YouTube
Movies
News
Gemini Man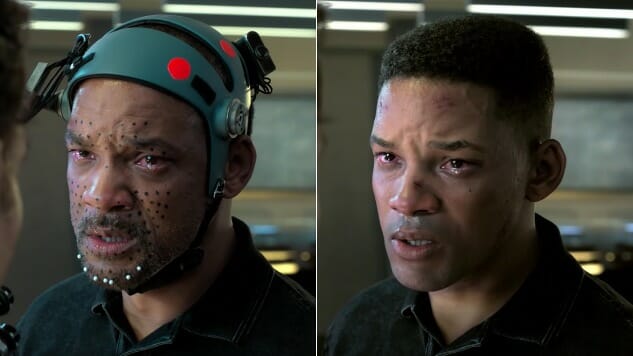 Uncanny valley, ahoy: Ang Lee's forthcoming Gemini Man project has received its first behind-the-scenes featurette, unveiling details of the ambitious facial re-imaging technology used in the film.
The sci-fi thriller stars Will Smith as an aging hitman being hunted by a younger version of himself (which we previously described as Rian Johnson's Looper if Bruce Willis were the protagonist). That's right—that marks two of the same Smiths at the forefront of the film. The last time we saw two Smiths together on the silver screen was 2013's After Earth, and we all know how that went. Notes Lee in the featurette: "When you see the two Will Smiths, that's something we've never seen before." You're telling us, Ang.
To recreate the hyper-realistic, full-bodied and full-functioning rendering of a young and sprightly 23-year-old Smith, the studio relied on advanced motion-capture and digital recreation technologies that, according to VFX Supervisor Bill Westenhofer, were far beyond "de-aging" or "face-replacement" techniques.
Westenhofer previously detailed the two methodologies used to capture Smith's younger self to IndieWire: Smith portraying the character in a motion-capture head rig, and, for scenes containing both characters playing against each other, the usage of a body double and digital replacement technology.
"What you see for Junior is a completely digital creation 100% driven by Will Smith's performance," Westenhofer explains in the featurette.
Seeing that the digital recreation was entirely reliant on the range of Smith's performance, it's no surprise that Gemini Man called for intensive emotional commitment on his behalf. The actor notes he couldn't have portrayed the younger character when he was 23, but three-decades worth of experience has prepared him to embody both versions of the character.
Though not detailed in the featurette, the cherry on top of Gemini Man is its eye-popping frame rate: Lee and cinematographer Dion Beebe shot the film in 120 frames per second (as compared to the industry-standard of 24fps), a technique Lee previously used in 2016's Billy Lynn's Long Halftime Walk.
Though the technology is impressive in nature, from what we can see in the featurette and the film's previously released trailer, the uncanny valley effect still lingers: The sight of Junior's mouth moving is a little too freaky to handle.
The film will debut in theaters everywhere on Oct. 11, and you can check out the featurette and trailer below.