Exclusive: Listen to Two Songs from Lorne Balfe's Gemini Man Soundtrack
Ang Lee's technically ambitious action film stars Will Smith and ... Will Smith
Images courtesy of Paramount Pictures, Paramount Music
Movies
News
Gemini Man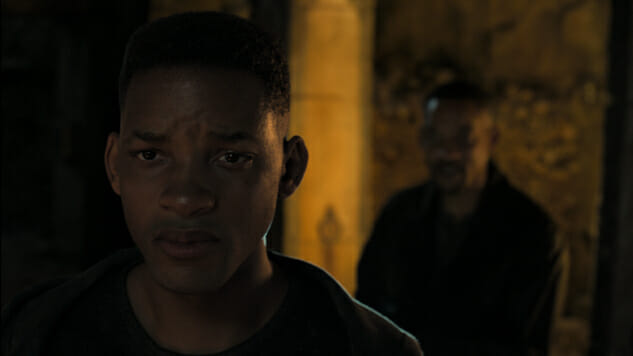 Ang Lee's latest adventure in technically ambitious moviemaking is Gemini Man, a Jerry Bruckheimer-produced action film starring Will Smith as Henry Brogan, an elite assassin who finds himself being tracked by his younger self. Ahead of the film's theatrical release this Friday, Oct. 11, Paste is pleased to debut two songs from the Gemini Man soundtrack, "Are You DIA" and "Henry and Junior," composed by Grammy winner and Emmy nominee Lorne Balfe.
"It was an absolute pleasure getting to collaborate with the masterful dream team—director Ang Lee and producer Jerry Bruckheimer," says Balfe in a statement. "Ang and I spent four days in the studio exploring themes with soloists playing live! He wanted a theme that portrayed the delicate relationship between Henry and Junior, so I did a theme that intertwines both melodically, as their bond grows stronger. Hope you all enjoy the thrill, as we unfold the mask behind Gemini Man." Balfe, originally from Inverness, Scotland, has lent his talents to the Call of Duty and Assassin's Creed videogame franchises; prestige TV like Netflix's The Crown and HBO's forthcoming His Dark Materials series; and films including Mission: Impossible – Fallout, Ad Astra and The Florida Project.
Balfe's work on "Are You DIA" and "Henry and Junior" suggests a gripping narrative rife with pulse-pounding twists and turns, while still leaving room for a wellspring of emotion. The former track opens in the calm before a storm, its pounding percussion and garbled synths ratcheting up the tension to near-unbearable levels by the midpoint, and twisting the knife one last time in its closing moments; the latter track—the aforementioned "theme that portray[s] the delicate relationship between Henry and Junior," Henry's clone—is more straightforward, its mournful, artfully layered strings evoking the bone-deep connection between two manifestations of one self.
As for Gemini Man itself, judging by early critical reactions, the film's story is the underwhelming counterpoint to its boundary-pushing visuals, which is a shame. In his review of the film for Paste, Tim Grierson praises Gemini Man as "a modestly radical piece of experimental mainstream action filmmaking," but laments that "sometimes experiments never rise above novel curiosity—they're interesting to watch and fun to consider, but they tend to work better if they're attached to good stories and compelling characters." Audiences can judge for themselves starting tomorrow.
Listen to "Are You DIA" and "Henry and Junior" below. You'll find the Gemini Man soundtrack's tracklist and album art further down. The soundtrack will be available digitally on Friday, Oct. 11, on Paramount Music and a CD release is forthcoming on La-La Land Records.
Gemini Man – Music from the Motion Picture Tracklist:
01. Last Shot
02. Burning The Past
03. Are You DIA?
04. First Confrontation
05. Cartagena
06. Bike Fu
07. Catacombs
08. I Know You Inside And Out
09. Henry and Junior
10. Fighting Gemini
11. Teaming Up
12. Don't You Feel Pain?
13. Verris
14. A Perfect Version Of You
15. Those Ghosts
16. Thanks, Brother
17. Gemini Man
Gemini Man – Music from the Motion Picture Album Art: