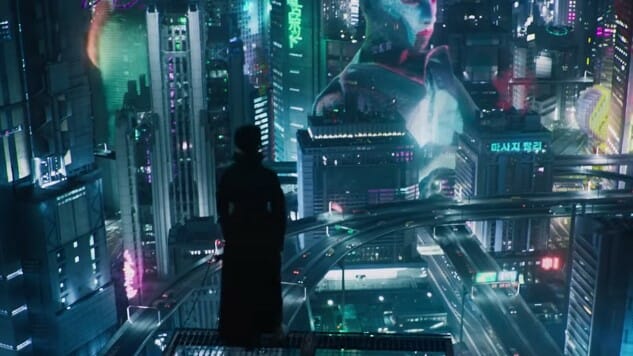 Paramount Pictures has released the first five minutes of the controversial new action film, Ghost in the Shell, based on the Japanese manga. Much of the controversy stems from the whitewashed casting of Scarlett Johansson as Major, the cyber-enhanced soldier, originally a Japanese character. It's a pretty stylish opening, flushed with bright neon lights and a stunning backdrop that wears the Blade Runner influence on its sleeve.
While this opening footage may not win over any detractors, it's not bad as an action sequence. Basically, we get the full sequence of Major dropping in on a what looks to be a data heist, setting up the conflict for the rest of the film. So, yeah, for those looking for what will probably a sub-par action flick starring Scarlett Johansson, this might be a good one for you. But this film was probably doomed the moment that they decided to not cast Rinko Kikuchi, which would almost certainly have been much more awesome.
Ghost in the Shell opens in theaters on March 31. Check out the first five minutes of the flick above.