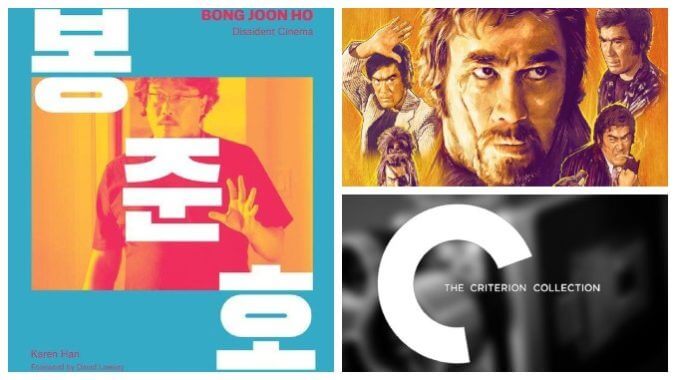 As a holiday cold makes the "supply chain issues" less important than simply getting home in one piece, you still might be needing some gift ideas for the movie lovers in your life. It's now more accessible than ever to bring the cinema home: Whether that means getting a glimpse into the arthouse or learning more about some of the biggest blockbusters ever put to celluloid. If you need to earn the favor of the cinephile in your life, we've got plenty of options for every fan of the feature film.
Here are 10 great gifts for movie lovers:
---
Bong Joon Ho: Dissident Cinema
Rarely does a director from outside the U.S. make such a splash stateside as Bong Joon Ho. The South Korean filmmaker's Oscar-winning black class comedy Parasite helped make him a household name among a certain set of—let's be honest—cool people, which means his previous work is now getting far more American eyes than ever before. Like any new discovery, any new trip through an artist's oeuvre, it's helpful to have a guide. Enter Karen Han, whose Bong Joon Ho: Dissident Cinema not only walks you through Bong's excellent filmography, but contextualizes it in both creation and release. With a sharp and stunning design from Little White Lies, Han's work makes Bong's films—from Barking Dogs Never Bite to Okja—even more idiosyncratic and lovable. Heck, even his non-feature work gets some attention. There's never been a better time to learn about one of Korea's best, and no better entryway than this book.
---
Browse the Criterion Collection
A force for cinematic good that helped curate, preserve and shape the modern canon (just look at the numbers: more than 50 of the Sight & Sound poll's films are available on Criterion disc), the Criterion Collection is an endless bounty of gift options for the film connoisseur. Whether you're stocking up on box sets of classic directors (Agnes Varda!) or snagging a few of the new releases, Criterion's got plenty for everyone—whether you're a fan of Italian neo-realism or freakin' Godzilla. And if you're after more watching bang for your buck (or just want more options), their streaming service is one of the very best available.
---
Shout Factory has assembled an impressive box set documenting some greatest hits from hirsute Japanese martial artist and Quentin Tarantino fave Sonny Chiba. His primal physicality, bushy brows and sexual magnetism flavor all the films in this set (Yakuza Wolf: I Perform Murder, Yakuza Wolf 2: Extend My Condolences, Bodyguard Kiba, Bodyguard Kiba 2, Shogun's Shadow, Samurai Reincarnation and Swords Of Vengeance), making the case for his place alongside fellow legends of style and physical prowess like Bruce Lee. The prolific performer passed away recently due to COVID-19, but his legacy is as sharp as the blades his Hattori Hanzo crafted in Kill Bill. While his The Street Fighter series is perhaps his best known, the Yakuza Wolf movies are delightful genre stories that exude as much style as their star thanks to his frequent collaborator Tatsuichi Takamori and Lone Wolf and Cub: Baby Cart in Peril filmmaker Buichi Saito. Working through this set's films isn't just a perfect introduction to Chiba's movies, but a snapshot of '70s and '80s Japanese action.—Jacob Oller
---
Little more needs to be said about the incredible Hungarian filmmaker Miklós Jancsó that isn't in Martin Scorsese's introduction to Kino Lorber's box set. Containing the thrilling, rapidfire string of films from Jancsó running from 1966's The Round-Up to The Red and the White, The Confrontation, Winter Wind, Red Psalm and through Electra, My Love, this set fights war and facism with the sublime weapons of planning, camera control, and the unwavering gaze of a judgmental eye. His long takes are epic; his choreography impeccable; his meaning unmissable. The beautiful and crisp restorations pop off the screen and draw your eyes closer to even the most reprehensible acts of human cruelty. You see every hair on unkempt mustaches and every furry fiber of farmers' vests. A Cannes staple (winning Best Director for Red Psalm), Jancsó remains a brutal, incendiary figure of rebellion and critique—and one waiting to be discovered by those willing to observe that which challenges us most.—Jacob Oller
---
Metrograph at Home subscription
Right, right, there are a million streaming services out there. We know that better than most. But as so many streamers' offerings are diluted by competition or overstuffed with in-house garbage, a little more careful curation is needed for the discerning cinephile. So, whether you're in New York or not, Metrograph's at-home app is a winner. Available on Roku, Fire TV, Android TV, Apple TV, Google TV and Chromecast, Metrograph at Home offers over 100 movies, hand-picked by the same team programming the theater. Maybe you can't make it out to a screening at Ludlow Street. Maybe you want to supplement your frequent trips with some bonus content and better deals. Maybe you live somewhere where an "arthouse theater" is just whoever in town owns the most Criterion DVDs or has the biggest torrented Plex library. Whatever the case, there's fewer and fewer opportunities to watch rotating film collections that actually feel like collections rather than business decisions. With movies streaming in December from Jane Campion, Jafar Panahi, Joanna Hogg, Jean Renoir, Jean-Luc Godard and other filmmakers whose first names don't start with J, there's a ton of film history at your fingertips—supplemented by filmed Q&As and informative subsection write-ups. It's relatively inexpensive ($50 gets you a year) and thoroughly rewarding.—Jacob Oller
---
The Studio Ghibli Cookbook
If you've followed our gift guides over the past few years, you may have noticed that we're big fans of legendary Japanese filmmaker and co-founder of Studio Ghibli, Hayao Miyazaki. We're also occasionally suspect of movie-themed cookbooks, but if there ever was a studio to design a cookbook around, Ghibli is it. From the anpan (steamed sweet red bean buns) and onigiri (rice balls) from Spirited Away to the okayu (rice porridge) from Princess Mononoke and My Neighbor Totoro's Bento Box, the recipes look both easy to make and tasty. Some of the ingredients might be difficult to get where you live but these days even Chinese dried jujube fruit can be found online! Personally, I can't wait to dig into the savory Herring & Pumpkin Pie from Kiki's Delivery Service!?—Mark Rabinowitz
---
E.T. the Extra-Terrestrial: The Ultimate Visual History
A perfect companion to the recently-released 40th anniversary Gift Set from Universal Pictures Home Entertainment, Insight Edition's E.T. the Extra-Terrestrial: The Ultimate Visual History is packed with everything you could possibly want to know about the making of this absolute classic of a film. The hardbound, 240-page tome features a forward by Drew Barrymore (Gertie) and an introduction by producer Kathleen Kennedy and runs from director Steven Spielberg's initial inspiration through to the film's record-breaking box office success. The book delves into the development of the design of the now-iconic alien, the casting of Henry Thomas and Drew Barrymore (trust me, it ain't easy to cast kids) and the challenges presented by the shoot. The edition features rare and never-before-seen photos, concept art, and storyboards from the Amblin Entertainment archives as well as 16 removable inserts, including annotated script pages, studio memos, preliminary sketches, and more. Alas, no Reese's Pieces, though.—Mark Rabinowitz
---
Funko Pop!
Every year, we ponder items worthy of the Top 10, and every year, Funko is there. There may be no one formula for finding just the right gift, but in its catalogue of vinyl figures alone, whether new, vaulted or somewhere in between, Funko's little totems contain multitudes. Whether the person you're buying for loves a movie, a scene, a character, or just a passing moment, Funko's at once ubiquitous and niche offerings likely have a solution. Your otherwise film-neutral buddy may not care for blockbusters or indies. They may not really "keep up with pop culture" at all, but like that bare patch on Smaug's belly, your friend has something—some inexplicably sticky piece of cultural detritus that amuses or bemuses. Find that, look Funko's way and voila. And let's face it, it's highly likely the person you're buying for isn't such a cypher to crack, no holy grail of gift buying. Maybe they love Guillermo del Toro's Pinocchio or Reese Witherspoon's bunny suit in Legally Blonde or Sam in Trick 'R Treat or … well, it's probably hard to find a movie not represented somewhere in the Funko-verse.—Michael Burgin
---
Hot Dog Gloves and a Shameless Plug for A24's Shop
This was originally just going to be a single item, a prominently featured item in one of the most celebrated films of the year, Everything, Everywhere, All at Once. This award saluting Deirdre Beaubeirdre's auditing prowess was among the most memorable methods of shifting one's paradigm in the film, and it's unlikely anyone who receives one will forget the giver anytime soon. But it turns out A24 has quite a few gifts of note, from hot dog fingers gloves to more traditional anniversary editions, enamel pins, vinyl soundtracks and other items derived from what is an impressively memorable catalog of past 5 years. From Green Knights to homicidal farm girls to quirky little seashells, A24's shop may just have the answer for what to get that friend who thought they had everything.—Michael Burgin
---
Honorable Mentions:
A Note about formats: All of the Kino Lorber releases include both 4K UHD and BD discs, except: A Fistful of Dollars, For a Few Dollars More, Some Like It Hot, In the Heat of the Night, Touch of Evil and The Great Escape are UHD-only. Of the remainder, all contain UHD, BD and digital code versions except: Top Gun: Maverick and The Godfather Trilogy are UHD & digital code only, while The Last Waltz (UHD/BD), Miller's Crossing, and Shortbus (both BD only) have no digital codes.
---
Kino Lorber Can Do Home Video with the Best of Them
For the past few years, Kino Lorber has been rather quietly remastering some exceptional films and giving them their bow on either BD or UHD-BD but this year they went hog wild! Let me put it this way: The 15 films mentioned here are but a fraction of the amazing releases they put out this year. I chose these 15 to highlight the fact that when it comes to releasing well-crafted remasters of classic studio films and award-winning indies, the independent distributors are at least as capable as the major studios and in many cases add extras to appeal to genuine fans of the cinema. Many include new commentaries, new scans and or restorations and Dolby Vision HDR.
This selection ranges from Stanley Kubrick's somewhat controversial 1957 World War I masterpiece Paths of Glory (new 4K scan of the camera negative) to Tomas Alfredson's brilliant adaptation of one of the great spy novels ever written, Tinker Tailor, Soldier, Spy (John Le Carre). In-between, there are modern indie classics like Martin McDonagh's hysterical and touching In Bruges, Bryan Singer and Christopher McQuarrie's neo-noir whodunnit The Usual Suspects, Steven Soderbergh's brilliant romance-crime-thriller Out of Sight, and three Clint Eastwood westerns: Sergio Leone's A Fistful of Dollars and For a Few Dollars More, and Ted Post's Hang 'Em High.
But wait, there's more! This year's KL releases also include a plethora of studio classics, including John Sturges' star-studded The Great Escape, Orson Wells' Touch of Evil (4K restorations of 3 separate versions), two Billy Wilder masterpieces starring Jack Lemmon (Some Like It Hot and The Apartment), Norman Jewison's landmark look at racism in the Deep South In the Heat of the Night (with sequels They Call Me Mr. Tibbs and The Organization on the included BD) and we'll round off the list with one of my personal favorites Joseph Sargent's seemingly absurd (who hijacks a subway?) but ultimately brilliant The Taking of Pelham 1 2 3 and perhaps the most underrated film on this list, Robert Benton's Nobody's Fool, starring Paul Newman at his best and Jessica Tandy in her last role. -M.R.
---
Must See Sci-fi: Star Trek (Paramount Pictures) and Dune(Warner Bros.)
I'm going to ignore what fans have been grousing about for a year because yeah…we get it (and if you don't know what I'm talking about, consider yourself lucky). And I don't disagree but really, what's the point? Distributors are gonna do what they're gonna do, right? So let's get to the set. Paramount Pictures has (finally) released the six TOS cast films in 4K UHD and not only that, there are nine cuts of the six movies: Star Trek: The Motion Picture (theatrical cut and director's edition), Star Trek II: The Wrath of Khan (theatrical and director's cut), Star Trek III: The Search For Spock, Star Trek IV: The Voyage Home, Star Trek V: The Final Frontier and Star Trek VI: The Undiscovered Country (theatrical and director's cut). And….? They look fantastic! Every fan should be extremely happy with this set and you know what? If you bought the 4-film set last year? Give it to a younger relative or friend who has never seen them!
As for Dune, what can I say? I've been waiting for a proper film version of Frank Herbert's book since I read it in 1983 and while this isn't the ultimate screen version (like everyone else, the dinner party scene's exclusion makes me want to scream) it's likely the best (or the first half of the best) that we're going to get for quite some time, if not forever. Dune is made for the UHD treatment and the UHD disc comes complete with Dolby Vision (Those blue Fremen eyes!) and Dolby Atmos, for those suitably equipped. Over an hour of extras appear on the included BD disc and a digital code is also included. – M.R.
---
Top Gun: Maverick 4k UHD, (Paramount Pictures)
Let's get the "why you should give this as a gift" out of the way, up front: Top Gun: Maverick takes full advantage of myriad improvements in movie making technology made over the past 35 years and that makes this one hell of a ride! From actors operating their own cameras in the back seat of an F/A-18F while flying at high speed to filming with IMAX cameras located both inside the cockpits and attached to the exterior of the aircraft, this is an incredible technical achievement and f you haven't gotten on the 4K and Dolby Atmos train, this is the perfect reason to do it! Unlike a lot of releases, the extras here are copious and well worth the time. If there's one thing to know about Tom Cruise, it's that he's an absolute fanatic about the experience and craft of moviemaking. There's over 80 minutes of extras, many of which feature Cruise's passion for movie making. The only thing I'm sad about is the lack of a full-length commentary track. I know that's super film nerd territory, but Cruise's commentary tracks with director Christopher McQuarrie on the Mission: Impossible discs are an absolute must listen.– M.R.
---
1942 – Casablanca (Warner Bros.)
Is Casablanca the best film of all time? Who cares? Lists like that are useless, at best. Can I watch it over and over and over again? Absolutely and all that matters is that thanks to continued technological advancements in film preservation, digital restoration and home video, we have the chance to see and hear this 1942 masterpiece in a quality as good or better than those who first saw it at New York's Hollywood Theater on November 26, 1942. The film was restored and remastered in UHD from a new 4K scan and graded in HDR but Warner Bros. Motion Picture Imagine and the idea of watching this masterpiece in the best possible home video presentation has me positively giddy! – M.R.
---
1957 – Bridge on the River Kwai (Sony Pictures)
David Lean was a master at his craft. The two-time Oscar winner (from 10 nominations) directed two of the most respected and lauded films of all time in Bridge on the River Kwai and 1962's Lawrence of Arabia, coming up next on this list. In addition to being Lean's two Oscar winners for Best Director, each also won for Best Picture. Bridge on the River Kwai was nominated for 8 Oscars in total, winning 7, including Best Actor for Alec Guinness and Best Cinematography for Jack Hildyard, whose work benefits most from this releases new Dolby Vision color grading, which is generally considered superior to HDR10. Of note, American screenwriters Michael Wilson (also nominated for Lawrence of Arabia) and Carl Foreman were blacklisted, so the French writer of the novel on which the film was based was credited with writing the screenplay…even though he didn't speak English. Wilson and Foreman were finally acknowledged and awarded Oscars in 1985…after both men had died.– M.R.
---
1962 – Lawrence of Arabia (Sony Pictures) and To Kill a Mockingbird (Universal Studios)
Widely considered two of the greatest films of all time (Lawrence is in my top 3) this pair must have given 1962 Oscar voters fits and yes, Gregory Peck's performance in To Kill a Mockingbird was exceptional, that Peter O'Toole deserved to win Best Actor for Lawrence of Arabia is a hill I'm willing to die on. Regardless, film fans are in a better world, now that these two are finally available on UHD. (Lawrence was issued in 2020 as part of the Columbia Classics Collection: Volume 1 set but since that's currently selling for upwards of $500, we're including this stand-alone edition.) Both are apparently magnificent transfers but the reviews of Lawrence basically run out of superlatives! These two masterpieces were nominated for 10 (Lawrence of Arabia ) and eight (To Kill a Mockingbird) Oscars and went head to head in five categories, with Lawrence of Arabia picking up statuettes for picture, director (David Lean), art direction-color, cinematography-color, editing, original score, and sound, while To Kill a Mockingbird nabbed wins for actor (Gregory Peck), adapted screenplay and black & white cinematography.-M.R.
---
The 1970s…Coppola and Scorsese: The Godfather Trilogy (Paramount Pictures) and The Last Waltz (Criterion)
Pointing out that Francis Ford Coppola and Martin Scorsese are two of the greatest directors of the last 50 years isn't exactly a stretch but I'm willing to bet that The Godfather and The Last Waltz aren't often written up in the same paragraph. So much so that I'm not going to bother twisting into a pretzel to compare them.
Simply put, The Godfather Trilogy looks astonishing, as it should considering that, according to Paramount, over 5,000 hours were spent "repairing film stains, tears, and other anomalies in the negatives," as well as in-depth "color correction to ensure the high dynamic range tools were respectful of the original vision of Coppola and cinematographer Gordon Willis." The entire process took three years! The set includes The Godfather, The Godfather: Part II and The Godfather, Coda: The Death of Michael Corleone, Coppola's 2020 re-edit of The Godfather: Part III, which by the way, is included in two versions (the original and 1991 recut). If you're counting at home, that's either single versions of the first 2 movies & 3 versions of the third or single versions of 4 movies and 2 versions of a fourth one, of you decided that The Godfather III and The Godfather, Coda: The Death of Michael Corleone are two separate films. Whatever, go buy it, already!
Martin Scorsese's The Last Waltz, here released in 4K UHD by The Criterion Collection, is exactly what you'd expect from the label, meaning it's been impeccably-restored from the original 35mm camera negative and contains copious supplementary materials, both archival and new, including a new interview with Scorsese conducted by film critic (and my buddy) David Fear. Billed as The Band's "farewell concert appearance," the night included more than a dozen special guests, including Bob Dylan, Paul Butterfield, Bobby Charles, Eric Clapton, Neil Diamond, Emmylou Harris, Dr. John, Joni Mitchell, Van Morrison, Ringo Starr, Muddy Waters, Ronnie Wood and Neil Young. One of the more…esoteric stories from the production of the film is that due to the rampant use of cocaine backstage, Neil Young performed his set with a rather obvious "cocaine booger." As a result, the post-production team devised a new effect dubbed the "traveling booger matte" to obscure the blow. The more you know! – M.R.
---
1982 – 48 HRS. (Paramount Pictures)
My late father and I bonded over many things, including Star Trek: TOS, photography, baseball and movies. The fact that he dies never having seen The Godfather chokes me up every time I see it or write about it. However, we were able to watch a fair number of them together, including Smokey and the Bandit (at some bizarre little movie theater/bar, somewhere in Florida) Trading Places (he loved Eddie Murphy's sense of humor and the fact that the rich white guys got the shaft) and this Walter Hill classic. As great as Lethal Weapon is, 48 HRS. is a better film on many levels and this release is easily the best it's looked on home video. Eddie Murphy's Reggie Hammond and Nick Nolte's Jack Cates have maybe the most compelling and authentic interracial on-screen relationship since Sidney Poitier's Virgil Tibbs and Rod Steiger's Bill Gillespie in 1967's In the Heat of the Night. This release features a new 4K remaster, Dolby Vision and a new featurette, Filmmaker Focus: Director Walter Hill on 48 HRS, as well as legacy extras. – M.R.
---
1990s – Miller's Crossing (Criterion) and Pulp Fiction (Paramount Pictures)
Let's get this out of the way first: 1990's Miller's Crossing is not only my favorite Coen Brothers film, it's my 2nd favorite film, ever. It's an absolute masterpiece and I've probably seen it 20 times. I'm not going to lie, I'm disappointed this wasn't a 4K release. Barry Sonnenfeld's cinematography is stunning and when the UHD release comes, my dreams will be recognized, but for now, this excellent new 2K transfer, supervised by Sonnenfeld, will have to do! The disc also includes a new DTS-HD 5.1 mix, created by the film's supervising sound editor and rerecording mixer Skip Lievsay and 2x Oscar-nominated composer Carter Burwell.
While both Miller's Crossing and 1994's Pulp Fiction involve…extralegal activities, the two could not be more different in tone, style, direction…everything. Honestly, we all know how amazing Pulp Fiction is and it's not really up for debate. What we're here for is this 4K release. Well, I can tell you that it's an excellent new 4K restoration and Dolby Vision only improves the look. The port of the original 5.1 DTS-HD audio is still exceptional and it's a fantastic improvement over the existing BD release. – M.R.
---
2000s – Shortbus (Oscilloscope Pictures)
What can I say about John Cameron Mitchell's 2006 magnificent, profound (and profane) follow up to Hedwig and the Angry Inch? For one, it's probably nothing like anything you've ever seen. Secondly, given the rift that's appeared in this country over the past 10 years or so, I'm willing to bet that the number of folks that wouldn't like it for … reasons has grown, which makes me happy. Any chance to piss off the bigot brigade! Regardless, I've been trying to show this to dozens of friends for years, and now that it's here, I'm not going to waste my chance. Oscilloscope is also releasing Shortbus lube, vinyl soundtrack and more, all at the Oscilloscope store.
---
A Christmas Classic: A Christmas Story (Warner Bros.)
Perhaps the greatest Gen X Christmas movie, Bob Clark's A Christmas Story gets the 4K UHD treatment and it's fantastic! None of the movie's atmosphere is lost in the process, it's just….better. Suffice to say this is the best this movie's looked since it was in the theaters, by far. As far as extras go, it's a mix of legacy features and two that were previously only available on out of print editions of the film. Sure, maybe it's a little weird that this is coming out 39 years after the film was first released but then again…it's a pretty weird and brilliant film! – M.R.