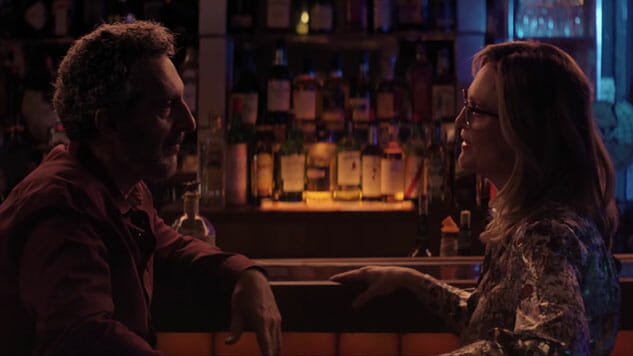 Over 20 years after studio execs were surprised by the success of the 1995 Clint Eastwood/Meryl Streep romance The Bridges of Madison County, American mainstream cinema still seems afraid to tackle love and sexuality for those above "a certain age." Which might be why writer/director Sebastián Lelio embarked upon a scene-by-scene, almost shot-by-shot remake of his bittersweet and life-affirming Chilean dramedy Gloria, this time with an American setting and one of the greatest American stars of her generation.
The 2013 Gloria is a slice-of-life tale about the 59-year-old titular divorcee (Paulina Garcia) who enjoys going to bars that play '70s disco. Her fully grown children have moved on with their lives, leaving her to ponder the emptiness of the latter half of her time on Earth. Refreshingly devoid of a traditional plot and any forced conflict, Gloria instead studies how such a character can enjoy the ups and downs of life even after her family has left her behind.
With this year's Gloria Bell, we more or less get the same thing, but this time Lelio wisely taps into an older American audience looking to see representation they don't get much from their cinema, especially the kind that doesn't condescend or patronize. A lot of Hollywood films dealing with middle-age love—How Stella Got Her Groove Back and Something's Gotta Give, for example—still treat it with the aesthetics of teen romance, full of impulsive excitement and youthful energy. We may expect the first time Gloria (Julianne Moore) and her theme park owner boyfriend Arnold (John Turturro) hold hands to be a dramatic moment, shown through soft focus close-up, yet Lelio sticks to a wide shot and barely attracts attention. Same goes with sexuality: Where we expect sparks to fly once the couple see each other naked for the first time, Lelio hard cuts to Gloria topless, casually having an existential discussion with Arnold in bed. These characters have been to this rodeo many times before, and their needs and expectations are different from those in the throes of youthful romance. On the flip side, Lelio lingers throughout on quiet moments capturing a quick glance or a long, loving stare that communicates compassion and mutual connection.
Comparing the performances of Garcia and Moore: They're equally striking, though Garcia's take on the character is more of a say-it-like-it-is extrovert, while Moore, leaning into her American character's WASP-ness, goes for an introverted approach, allowing Moore to communicate Gloria's inner joys and struggles through subtle body language. Meanwhile, though both versions of the film are chock-full of disco classics mirroring the mood of each scene, they're more dramatically potent in Gloria Bell since Moore's understated performance allows the songs to work as a sort of Greek chorus.
Gloria Bell is also a bit more sympathetic to the Arnold character compared to Gloria's boyfriend in Gloria. This might come from Turturro's innate ability to have the audience immediately like him, even when he's playing an out-and-out asshole like Jesus Quintana. The film's main romantic conflict doesn't come from high melodrama, but from the simple but hurtful admission that as we age, we bring more and more baggage into new relationships, and some responsibilities might be too hard to leave behind. Lelio shows understanding for Arnold's predicament, but doesn't shy away from investigating how much it hurts his protagonist.
This time around, Lelio's DP is Natasha Braier, who recently shot The Neon Demon. She gets those bright colors of Gloria's disco-filled environment to pop in a way that expresses Gloria's inner life, balancing exuberance with an otherwise docudrama approach featuring natural lens flares and loose camera work. Just like in the 2013 version, Gloria Bell's final shot reminds of the bittersweet intimacy of Federico Fellini's transcendent Nights of Cabiria. We get knocked down, we pick ourselves up, life goes on. Even, and in some cases especially, for a 59-year-old.
Lelio has said that, apart from getting a chance to work with Moore and Turturro, he decided to remake his film in order to see if the material could resonate with a different culture. His themes are universal enough to have the remake speak to many women from many cultures, as the original could, and his (noticeably somber) new take specific enough to resonate with American audiences of a "certain" demographic who don't get many movies like this in theaters anymore.
Director: Sebastián Lelio
Writer: Sebastián Lelio
Starring: Julianne Moore, John Turturro, Michael Cera, Brad Garrett, Jeanne Tripplehorn, Holland Taylor, Alanna Ubach
Release Date: March 22, 2019