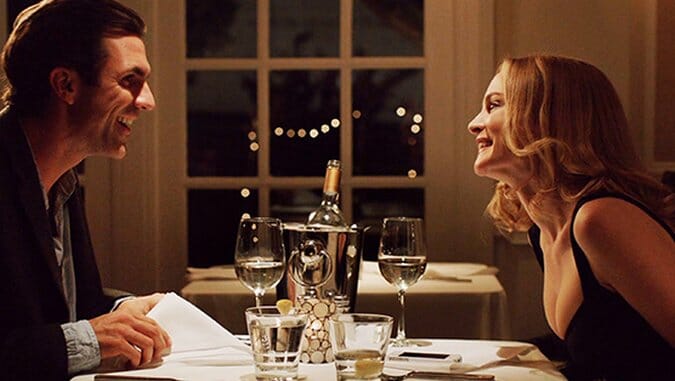 Goodbye to All That marks screenwriter Angus MacLachlan's directorial debut, an honest and quietly relatable return for the Junebug scribe to familiar territory. He sets this film in small town North Carolina and gently focuses on the confounding nature of human relationships—especially the ones that fall in that murky area between sex and love. Those expecting a traditional romantic comedy will be disappointed, as the film appeals mostly to an older, been-there, done-that type of audience. After all, it's tagline calls it "A modern divorce story."
Paul Schneider (All the Real Girls; Lars and the Real Girl; Water for Elephants) stars as Otto Wall, an accident-prone husband and father. Within the film's first 10 minutes, he's already tripped at the finish line of a 10k race, and then ends up in the hospital with a mangled foot after an ATV accident. As his wife Annie (Melanie Lynskey from Up in the Air and Heavenly Creatures) brings their daughter Edie (Audrey Scott) to his hospital room, the precocious 'tween asks, "Why do these things always happen to Daddy?" Annie's response—"Because he doesn't pay attention"—is loaded with meaning.
In other words, Otto has become complacent, sleepwalking through his suburban life. He's blindsided when, with the help of her therapist (a terrifically annoying Celia Weston), Annie asks for a divorce, making it clear that she's obviously been unhappy for a long time. Otto doesn't even know that Annie has a therapist, which would be more irksome than charmingly obtuse were Schneider unable to make Otto the Everyman's cluelessness so likeable.
And so, like many marriages, Otto's ends with a whimper. Even the couple's post-separation fights are passionless. (We've seen more heated arguments happen over dirty dishes.) Although Otto tells Annie that he wants to try and work things out, she doesn't want to do the same, and deep down he really doesn't want to either. More than the marriage, it's the status quo he misses.
Otto quickly re-enters the dating pool while simultaneously navigating single fatherhood. Much of Goodbye to All That follows Otto's sexual exploits as he sows his oats, first with an old girlfriend (Heather Graham) who found him on Facebook, and then with a younger OkCupid match (Ashley Hinshaw). Both women are into Otto strictly for the sex, no strings attached, and unsurprisingly he's fine with that. He's astounded how much fun "dating" can be for a middle-aged guy, a point that he belabors with his best friend, played by Michael Chernus (Captain Phillips) in an obligatory, archetypal rom-com role. But things get a little weird with church girl (Anna Camp) when she wakes up with buyer's remorse after seducing Otto during a weekend getaway, and, in a small role, Amy Sedaris adds a touch of creepiness as Otto's boss who offers her support—in a supply closet—upon learning of his divorce. So, like any movie of its ilk, Goodbye to All That begins to chastise Otto for his reckless lasciviousness—mostly just by making it all less than it's cracked up to be.
The majority of Otto's character arc finds him balancing dating and fatherhood much like he approached his marriage: By letting life happen around him. That is, until he reaches out to his summer-camp flame (Heather Lawless of The Campaign and the TV series The Heart, She Holler) for possibly something more than sex. Their reunion changes his life—and, thankfully, not in a groan-inducing, schmaltzy way.
Saving the film from the precipice of total boredom is MacLachlan's sometimes sharp and humorous dialogue, and the winsome Schneider and Lynskey together convey a complexity that intimates that neither Otto nor Annie is beyond reproach in their failed marriage, but besides detailing Otto's sexual trysts between a few poignant moments shared by father and daughter, not much else happens in Goodbye to All That. The women who Otto beds are only there to prove how sexually liberated women are—"Look how far we've come!" and all that—which is mildly off-putting, to say the least. While the summer camp reunion premise is hokey, and not very funny, Lawless brings a soft twang and Southern affability to her few scenes, but it's too little too late: the rekindling of her friendship with Otto is forced functionally and rushed unnecessarily.
As a first-time director, MacLachlan serviceably shoots Otto's coming-of-(middle-)age story. He translates North Carolina's towns and countryside picturesquely, and his exterior shots do the scenery justice, especially contrasted with his sometimes darkly suffocating interior shots. Unmistakably distracting, however, is the selection of music used throughout the film. Otto is a Regular Joe kind of guy, one who would name Led Zeppelin when asked what classical music is, not the flitting arrangements here. Like The Squid and the Whale, Goodbye to All That explores divorce in a low-key manner, but it lacks an emotional punch or clear sense of humor to carry it much beyond its repetitive series of sexual trysts. Ultimately, MacLachlan's film suffers from the same ennui as its lead character.
Director: Angus MacLachlan
Writer: Angus MacLachlan
Starring: Paul Schneider, Melanie Lynskey, Heather Graham, Anna Camp, Heather Lawless, Amy Sedaris, Ashley Hinshaw, Audrey Scott
Release Date: Dec. 17 (NY and VOD); Dec. 24, 2014 (LA)
---
Christine N. Ziemba is a Los Angeles-based, freelance pop culture writer and regular contributor to Paste. You can follow her on Twitter.