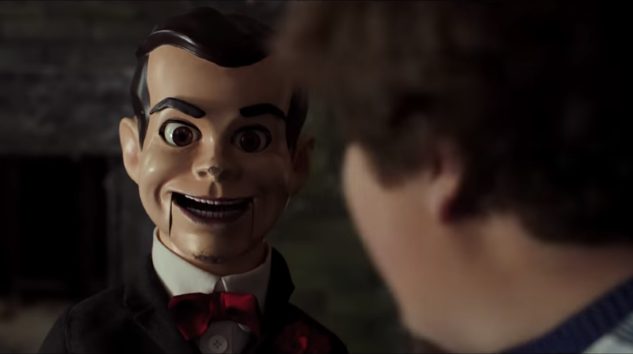 2015's Jack Black-starring Goosebumps, the adaptation of R.L. Stine's long-running and beloved series of children's horror stories by the same name, was a surprise hit for Sony Pictures Animation and distributor Columbia Pictures when it was released. Making more than $150 million against a mere $50 million budget, it seemed like an easy call that a sequel was probably in order, and lo and behold, we finally have at trailer for said sequel, Goosebumps 2: Haunted Halloween, which you can view below. The film hits U.S. theaters on Oct. 12, 2018.
As for the trailer, it's safe to say that it has a "more of the same" sort of vibe, being content to replicate a lot of what made the last film work: Jack Black zaniness, childhood nostalgia and solid child actor performances. The plot seems to revolve around a "lost" book from R.L. Stine, titled Haunted Halloween, that when opened releases all of his most dangerous creations into the real world once again. The film is obviously set during Halloween, which is, once again, something of a no-brainer.
The biggest return is of course Black as the franchise star, which makes it somewhat curious that he doesn't actually appear in the flesh during the trailer—although you can hear him voicing Slappy the Dummy, one of Stine's most famous (and recurring) creations.
Check out the family friendly trailer below. The Goosebumps sequel crawls into theaters on Oct. 12, where we can only assume that it will have a decent shot of surpassing the previous film's gross.