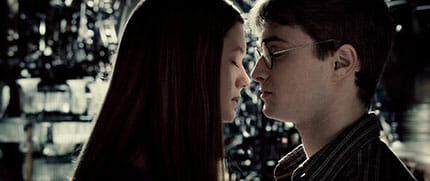 Release Date: July 15
Director: David Yates
Writers: Steve Kloves (screenplay), J.K. Rowling?(novel)
Starring: Daniel Radcliffe, Emma Watson, Rupert Grint
Cinematographer: Bruno Delbonnel
Studio/Run Time: Warner Bros., 153 mins.
Harry's haunting sixth year at Hogwarts the finest to date
It only takes five minutes into the new, sobering adventure of everyone's favorite boy wizard for a startling realization to form: not only is Harry Potter and the Half-Blood Prince an excellent translation of J.K. Rowling's addictive canon, but it's also the first entry to shine on its own devoid of its backdrop mythology. The sixth chapter reaches a new, dark pinnacle in its maturity, abandoning its former Roald Dahl-inspired whimsy to focus on the growing peril facing the hardening protagonists at Hogwarts. Whether it's the exclusion of John Williams' fanciful overture or the staple Benny Hill shenanigans between Harry and his cartoonishly-enraged uncle, Harry and his filmmakers have put their toys away and grown up.
This is no more evident than in the opening scenes that witness the morbid witches known as death eaters wreaking havok in urban London, the destruction correlating far too well with the past decade's political landscape to be misconstrued as absolute escapism. This devastating tone hits hard and pulses throughout the majority of the movie. In its previous translations, Rowling's pocket legend gave Hollywood the chance to retread the adolescent quest formulas that ran rampant during the '80s under the helm of Spielberg, Zemeckis and Henson. Now, the photogenic trio of adolescent sorcerers Harry (Daniel Radcliffe), Ron (Rupert Grint) and Hermione (Emma Watson) delve deep into the past of über-evil, racist wizard Voldemort (played with inhuman detachment by Frank Dillane in a sequence of flashbacks) as an epic showdown becomes inevitable. The action far exceeds its PG-rating limitations as Harry and his elitist rival, Draco Malfoy, leave each other bloody and unconscious on more than one occasion. (As love interest Ginny observes, "He's covered in blood again. Why is it he's always covered in blood?").
Director David Yates and Steve Kloves' storytelling skills have also matured, selecting only the most essential storylines of the 652-page book in place of the plot suffocation that left previous ventures impersonal and claustrophobic. This allows secret-weapon cinematographer Bruno Delbonnel (Across the Universe) the space to submerge the entire affair into a striking palette of antiseptic grays, matching the moral ambiguity of its heroes and villains. The finished production breathes with a majestic clarity fitting the best fantasy and genre films of the past three decades.
None of this would matter if the cast ensemble wasn't extracted from Britain's finest gene pool of talent. Helena Bonham Carter, Alan Rickman, Maggie Smith and Jim Broadbent make superb acting look as easy as downing a round of butter beer, but Michael Gambon's ferocious turn as Dumbledore gives Gandalf undeniable competition as the reigning white wizard. Add some truly hilarious comic relief from Grint and Watson (hormones and Quidditch brooms fly equally fast here), and there isn't a performance that can't do justice to its ink inspiration.
With the series' last chapter beginning next November, we can only hope its climax builds off the kinetic highpoints seen here. But for now, we can call this the franchise that lived.