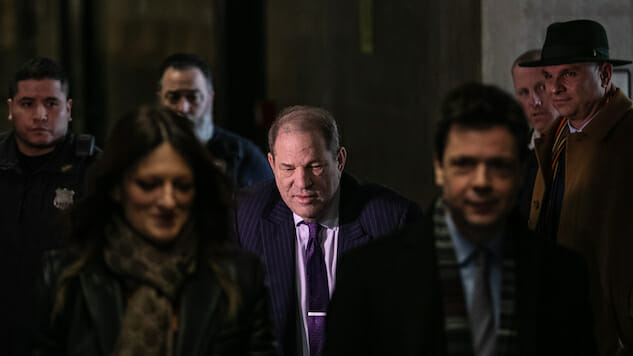 The bleak Law and Order: SVU ripped-from-the-headlines episode we've collectively been living in these past few years has partially culminated in a verdict.
Just before noon on Monday, a New York County jury found Harvey Weinstein guilty—kind of.
The jury convicted Weinstein on two criminal charges: criminal sexual assault in the first degree and rape in the third degree.
However, they acquitted the disgraced movie producer of the most serious charges brought against him, one charge of rape in the first degree, and two counts of predatory sexual assault, the only charges on the table carrying a possible life sentence.
After a protracted 23-day trial, the jury, made up of seven men and five women, deliberated for five days, deadlocked on those two more severe counts of predation.
The judge in the case will sentence Weinstein, the villain of a Scooby Doo episode somehow set in both Gotham and the Mad Men universe, on March 11. He faces five to 25 years on the criminal sexual assault count and 18 months to four years on the third degree rape count. His sentence, however, could still be prolonged in his upcoming Los Angeles trial.
Two women brought the New York charges; actresses Miriam "Mimi" Haleyi, who accused Weinstein of forcing oral sex on her in July 2006, and Jessica Mann, who accused him of raping her in 2013.
Three other accusers—Dawn Dunning, Tarale Wulff, and Lauren Young—testified in the trial as "Molineaux witnesses," witnesses allowed in New York State trials whose charges can't be tried but who can testify to a defendant's character (or in this case, a breathtaking lack thereof) or pattern of criminal behavior; in this case, Weinstein's decades of violence. Sopranos star Annabella Sciorra also took the witness stand to share her account of rape by Weinstein in her apartment in 1993, in an effort to strengthen predation charges.
All six women gave sometimes hours-long testimonies, describing in brutal and often visibly devastating detail their stories of attack.
Gloria Allred, lawyer for Haleyi and Sciorra, told reporters that her clients "should be considered heroes of the women's movement," going on to emphasize that Sciorra "is absolutely one of the bravest women I know. She sacrificed so much privacy, invested so much time, went through so much just for the cause of justice."
The New York charges were brought against Weinstein in May 2018 by Haleyi and Mann after an intense, grueling and meticulous search by prosecutors to determine the accusers with the most legally viable cases, according to the New York Times. Dozens of the 80-plus accusers not tapped for trial or with charges in other jurisdictions have filed collective civil suits (for which, in one case, they're rejecting settlement deals), and Weinstein has been the subject of investigators' probes in London (which haven't resulted in any charges there).
The case now moves to Los Angeles County, where one rape and one sexual assault charge were brought against Weinstein in January; the court date hasn't yet been set. The charges cover separate incidents with different women over the course of two days in 2013. Give that sentence another read, or launch your device out the nearest window—the choice is yours.
Despite the literal historical movement arising in response to the exposure of his crimes, Weinstein has denied all allegations of rape and assault since the two Pulitzer-winning exposés of his reign of terror were published in The New York Times and The New Yorker in October 2017, pleading not guilty in the New York trial.
Weinstein lawyer Donna Rotunno, a grown woman with the general demeanor and malicious headband energy of Blair from Gossip Girl and fucked up attitudes RE: sexual assault of Chuck from Gossip Girl, stated that Weinstein's legal team will be "absolutely be appealing" the verdict. Okay, B. You do that.
Today's outcome in Harvey Weinstein's New York trial is the result of the decisions of multiple women to come forward to journalists and to prosecutors at great personal cost and risk. Please keep those women in your thoughts today.

— Ronan Farrow (@RonanFarrow) February 24, 2020