Everything We Know about the David Harbour-Starring Hellboy Reboot So Far
Images via Lionsgate
Movies
Features
Hellboy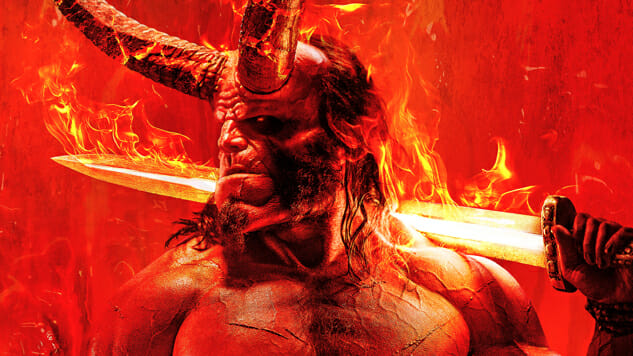 "Everything We Know about … " is Paste's series of deep dives into the forthcoming projects we're most excited about. Explore them all here.
In 2019, Lionsgate will release Hellboy, a reboot of the Dark Horse Comics-inspired film series, starring Stranger Things' David Harbour as the Harbinger of the Apocalypse. Here's everything we know about the reboot so far.
---
Development
Unlike the first two installments, director Guillermo del Toro and original star Ron Perlman will not be involved in the Hellboy reboot. The duo partnered on 2004's Hellboy and the 2008 sequel Hellboy II: The Golden Army.
In May 2017, comics artist and Hellboy creator Mike Mignola announced that an "R-rated" Hellboy was coming, with Neil Marshall (The Descent, Game of Thrones) set to direct and Harbour in talks to star. Unfortunately for fans, the news effectively squashed hopes of del Toro's long-planned Hellboy 3.
The following month, in an attempt to quash any feud between Hellboys new and old, comedian Patton Oswalt organized a "detente dinner" between Perlman and Harbour. "Not since Bill Clinton, Menachem Begin, and Anwar Sadat has there been such an epic summit yelding [sic] such a little result," joked Perlman. He added, "The result: i gained 3 pounds and ruined my liver. Meanwhile, good luck kid! Signed, the babe."
Harbour responded via Twitter, saying, "I'd follow these two into the gates of hell … "
I'd follow these two into the gates of hell… https://t.co/RSNQ77PftB

— David Harbour (@DavidKHarbour) June 6, 2017
In September 2017, Lionsgate released the first image of Harbour as the eponymous superhero in the film, then titled Hellboy: Rise of the Blood Queen.
While Harbour's iteration of the character is largely faithful to the comics, and to Perlman's take from the del Toro films, Harbour's Hellboy sports longer hair than Perlman's, wielding a more metallic version of his Right Hand of Doom and bearing a crucifix by his crotch.
In December 2017, it was reported in a Variety interview with Harbour that Hellboy, now minus the Rise of the Blood Queen subtitle, had wrapped production in Bulgaria.
On Oct. 1, 2018, EW premiered the first poster for the film. Later that day, the Hellboy Twitter account shared the new poster, captioned, "Legendary AF."
Legendary AF. #Hellboy – In theaters April 12, 2019. pic.twitter.com/SxMCFet9wt

— Hellboy (@HellboyMovie) October 1, 2018
That same day, Harbour also teased new footage set to premiere on Oct. 6 at the film's New York Comic-Con panel.
On Nov. 26, Empire shared an exclusive new image featuring Harbour in motion as Hellboy. "It was always a case of, 'When in doubt, go back to the source material.' Some of the stuff is pretty sick," said director Neil Marshall in an interview for the magazine's January 2019 issue. "More violent and more bloody. We weren't making it with handcuffs on." The film's Instagram account shared the new image the following day.
On Monday, Dec. 17, Harbour shared an apocalyptic new motion poster for Hellboy on his Instagram, revealing that the film's first trailer is set to premiere on Thursday, Dec. 20.
Lionsgate debuted this new teaser poster that same day: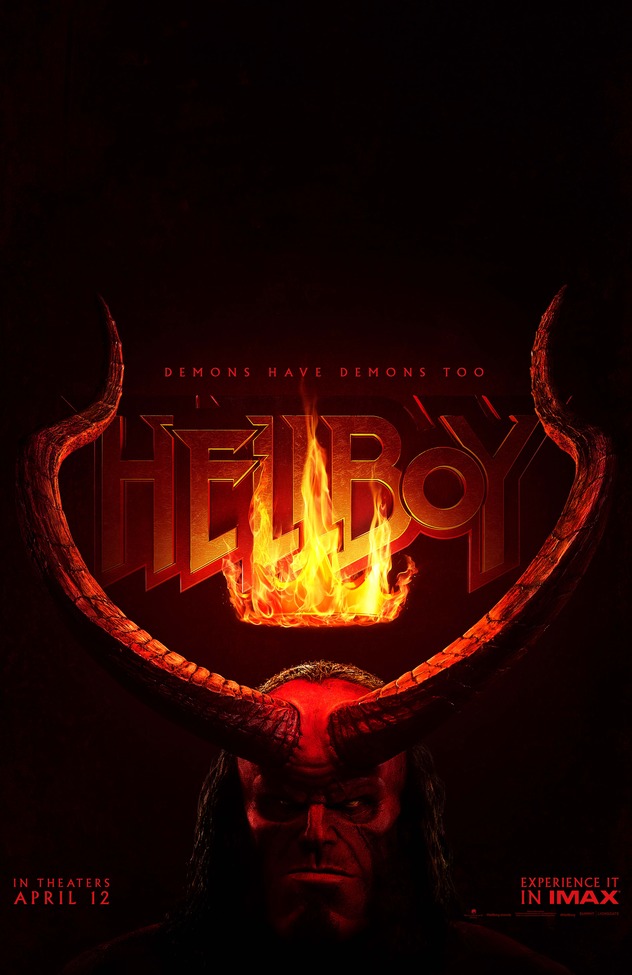 Cast
As noted in Hellboy creator Mike Mignola's initial announcement of the project, the Hellboy reboot will star David Harbour as the eponymous superhero.
On Aug. 1, 2017, Ian McShane joined the Hellboy cast as the superhero's adoptive father, Professor Broom, as THR first reported.
On Aug. 8, 2017, Resident Evil star Milla Jovovich was cast as villain Nimue, as Deadline first reported. The character, also known as The Blood Queen, is a medieval British sorceress who seeks to destroy humankind.
On Aug. 15, 2017, THR broke the news that American Honey star Sasha Lane had joined the cast as Alice Monaghan, whom, in the comics, Hellboy rescues from the fairies that kidnapped her. She retains some supernatural gifts because of her time with the fairies.
Quite controversially, later that month, white British actor Ed Skrein was cast as Ben Daimio, who in the comics is a Japanese-American character, the grandson of a WWII Japanese Imperial assassin. In response to criticisms over the whitewashing of an Asian character, Skrein stepped down from the role the following week.
"I accepted the role unaware that the character in the original comics was of mixed Asian heritage," said Skrein in his Twitter statement announcing the move. "There has been intense conversation and understandable upset since that announcement, and I must do what I feel is right."
— Ed Skrein (@edskrein) August 28, 2017
On Sept. 12, 2017, Daniel Dae Kim replaced Skrein as Ben Daimio in the film.
"I applaud the producers and, in particular, Ed Skrein for championing the notion that Asian characters should be played by Asian or Asian American actors," said Kim in a statement to THR of Skrein's choice to step down from the role.
That October, Brian Gleeson, Sophie Okonedo and Alistair Petrie were cast in three key roles, per Deadline. Gleeson, son of Brendan and brother of Domhnall, is playing Merlin, a wizard. Oscar-nominated Hotel Rwanda star Okonedo plays Lady Hatton, a resident seer at the Osiris Club, an ancient English club dedicated to uncovering supernatural mysteries, while Rogue One star Petrie is playing Lord Adam Glaren, a high-ranking member at the club.
Plot
Ahead of the film's big Comic-Con debut, Hellboy creator Mignola spoke with Deadline on Oct. 3 about the forthcoming film reboot.
"Honestly, I was a little surprised that they didn't give it a subtitle. They would like this to be the first of many new Hellboy movies and if they had a subtitle it might make it a little confusing," said Mignola of the filmmakers' choice to drop Rise of the Blood Queen. He added, "I suspect calling this one just Hellboy sends the message that this is the first one in a new series of movies."
On the new film's relationship to del Toro's past two installments, Mignola said, "Early on there was some idea of continuing the storyline that del Toro had started but would that be fair to a new director? So we decided to just start over. Neil is a horror director so the idea then was to a make a darker film."
The new film will adapt a trio of miniseries written by Mignola and illustrated by Duncan Fegredo: Darkness Calls (2007), The Wild Hunt (2011) and The Storm and the Fury (2013), all published by Dark Horse Comics.
The original comics follow Hellboy as he confronts his true heritage, goes up against the Queen of Blood (Milla Jovovich) and, at least in the source material, ends with the hero's apparent death.
On Oct. 6, a New York Comic Con audience was shown exclusive footage from Hellboy during a panel with creator Mignola, plus Harbour and co-stars Sasha Lane and Daniel Dae Kim. Fellow co-star Ian McShane was also scheduled for the panel, but was not in attendance.
While the new footage was not made available online, in their coverage of the Hellboy panel, Deadline provided the following description of the first look:
After we see an elaborate, underground lake and cave, the clip moved to city streets and Law and Order-type courthouse steps littered with bodies. As Harbour's Hellboy—sans horns, initially—gets out of a car to investigate, a cop shoots at him. "Hey," he screams, "I'm on your side!"
From there we see plenty of fights, a bloody gunshot to a head (the film will be R-rated) and some internecine grouching (Daniel Dae Kim's character at one point grouses, "I thought we were supposed to be fighting monsters, not working with them.")
Release Date
Originally set for release on Jan. 11, 2019, in September 2018, Lionsgate's Summit Entertainment pushed back Hellboy to April 12, 2019, per Deadline.
The Latest
On Dec. 19, the Hellboy trailer leaked online a day before its planned release. Soon after the leak, Lionsgate made the trailer's release official. You can watch it below.
---
Watch this space for further updates on the Hellboy reboot.