David Harbour Smashes Things Real Good in the Hellboy Trailer
Images via Mark Rogers, Lionsgate
Movies
News
Hellboy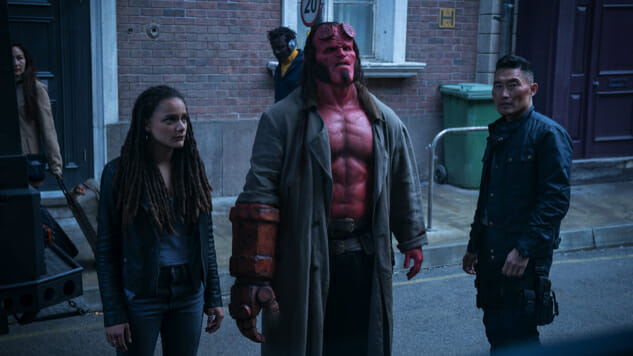 The trailer for 2019's David Harbour-starring, Neil Marshall-directed Hellboy reboot leaked a day ahead of its official release this week, but those of you who were scrupulous enough to wait to watch it through the proper channels can do so now. Lionsgate debuted the film's first trailer on Wednesday, and as Paste's Jim Vorel pointed out while covering the leak yesterday, it's, uh, "not quite what we were expecting."
Fittingly, fan responses to the trailer—which opts for a fun, Guardians of the Galaxy-style take on Mike Mignola's half-demon superhero, complete with Billy Idol's "Mony Mony" on the soundtrack—have been mixed thus far. Common critique targets include Harbour's Hellboy makeup (and his resulting, comically squinty facial expressions) and the trailer's wacky tone, though some have pointed out that Hellboy's always had a sense of humor.
"ThE rEbOoT lOoKs TeRrIbLe. HeLlBoY's NoT sUpPoSeD tO Be fUnNy!" pic.twitter.com/DtiNSJ9XuI

— Like Mesothelioma but worse (@Ben_Scheuermann) December 20, 2018
The trailer offers us a first look at Ian McShane's Professor Bruttenholm, Daniel Dae Kim's Ben Daimio, Sasha Lane's Alice Monaghan and Milla Jovovich as Nimue the Blood Queen, the film's antagonist, whose honorific was once the subtitle of the movie. We also get plenty of action, as Harbour's Hellboy uses that Right Hand of Doom to smash all kinds of monstrous CGI beasties. Here's hoping the reboot is the fun romp it's so clearly aiming to be.
Hellboy hits theaters on April 12, 2019. Watch the first trailer below and brush up on everything we know about the film so far here.