If you're looking for critical accolades to steer you in the "right" direction when it comes to checking out some 2016 titles, look no further than Paste's Best Movies of 2016 So Far list to get the inside scoop on some of the world of cinephilia's recent darlings. Behold: our authority!
One of those 25 films is John Carney's throwback musical bildungsroman, Sing Street, which our critic Andy Crump described:
Sing Street spins art out of history, but you might mistake it for pop sensationalism at first glance. If so, you're forgiven. In sharp contrast to John Carney's breakout movie, 2007's sterling adult musical Once Again, Sing Street aims to please crowds and overburden tear ducts. There's a sugary surface buoyancy to the film that helps the darkness clouding beneath its exterior go down more easily. Here, look at the plot synopsis: A teenage boy living in Dublin's inner city in 1985 moves to a new school, falls in love with a girl, and forms a band for the sole purpose of winning her over. If the period Carney uses as his storytelling backdrop doesn't make Sing Street an '80s movie, then the mechanics of its story certainly do. You may walk into the film expecting to be delighted and amused. The film won't let you down in either regard, but it'll rob you of your breath, too.
So, to celebrate the release of Sing Street onto DVD and VOD, we've partnered with Anchor Bay Entertainment for an exclusive giveaway: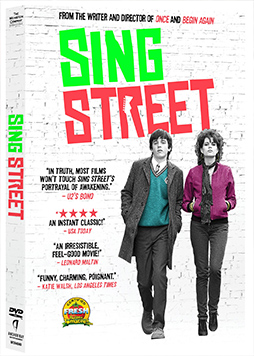 Three (3) winners will receive:
1. $25 iTunes Gift Card to purchase the official SING STREET soundtrack!
2. Shure Headphones
3. Copy of SING STREET on DVD
Check out that box art! Hey, Bono apparently likes it so much he's taken stock of the entire history of film in order to fact-check his hyperbole!
Winning, unlike putting a band together from scratch, is easy. All you have to do is:
1. Follow @pastemovies on Twitter if you haven't already;
2. Tweet @pastemovies and tell us what your favorite '80s song is;
3. Include the hashtag #SingStreet.
And in the spirit of crystallizing a hyper-specific youth culture within the confines of our increasingly nostalgia-obsessed zeitgeist, we'll pick a winner very soon!
Note: Winners must be U.S. residents.
---
Now, some words from the studio:
A feel-good, coming of age story written and directed by John Carney (Once, Begin Again) featuring the ultimate soundtrack of the 80s.
Sing Street takes us back to 1980s Dublin seen through the eyes of a 14-year-old boy named Conor (Ferdia Walsh-Peelo) who is looking for a break from a home strained by his parents' relationship and money troubles, while trying to adjust to his new inner-city public school where the kids are rough and the teachers are rougher.
He finds a glimmer of hope in the mysterious, über-cool and beautiful Raphina (Lucy Boynton), and with the aim of winning her heart he invites her to star in his band's music videos. There's only one problem: he's not part of a band… yet. She agrees, and now Conor must deliver what he's promised—calling himself "Cosmo" and immersing himself in the vibrant rock music trends of the decade, he forms a band with a few lads, and the group pours their heart into writing lyrics and shooting videos.
Inspired by writer/director John Carney's (Once, Begin Again) life and love for music, Sing Street shows us a world where music has the power to take us away from the turmoil of everyday life and transform us into something greater.
Find out where you can purchase your copy of Sing Street on Go Watch It!