Watch the Ridiculous Final Trailer for Hobbs & Shaw
Images via Universal Pictures/YouTube
Movies
News
Hobbs & Shaw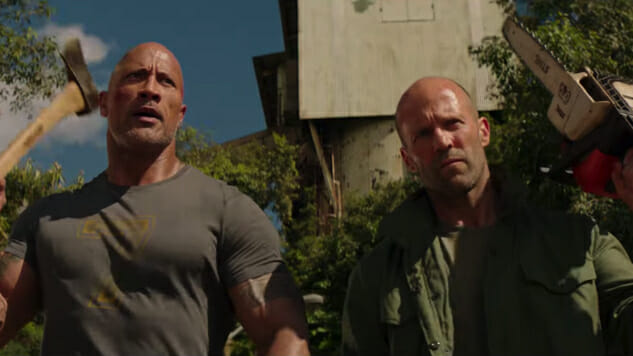 Fast & Furious Presents: Hobbs & Shaw knows exactly what it wants to be. The final trailer for the action flick makes no attempt to hide that—this is a sublimely goofy, high-octane machismo fest, filled to the brim with cars, guns and our snarky leads.
There's little words can do to describe the sheer ridiculousness of this trailer. "Cowboy up!" Dwayne Johnson shouts at one point; in another moment, he's straddling a chain levied between a helicopter and four cars tethered together. Idris Elba T-poses and shouts, "I'm black Superman," and later dives out of a jet and into an abandoned nuclear reactor. Jason Statham is somehow the straight man in all of this, gravely accusing Johnson of hitting on his sister while wearing a combat-ready turtleneck.
Seriously, Hobbs & Shaw looks like the pristinely stupid summer blockbuster that we need right now. It's out on Aug. 2. Behold the flick's final trailer in all its glory below, plus a new poster that's downright understated by comparison.