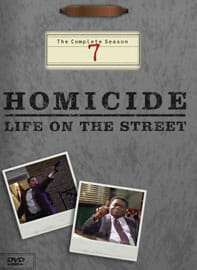 Gloriously distinctive series (at least for a while) in an overcrowded genre
Creator: Paul Attanasio
Starring: Daniel Baldwin, Ned Beatty, Richard Belzer, Andre Braugher, et al.
Studio information: A&E Home Video, 1056 minutes on 6 discs
Extras: 22 episodes in order intended by producers, one commentary, panel discussion, Barry Levinson acceptance speech
The police procedural is everywhere on TV, as omnipresent as home-makeover shows and ads for home-makeover shows; they're the reality TV program of the made-up world. Never mind the characters, never mind the stories, never mind the bullets; they're all the same, as generic as bar codes no matter the network or stars. Which is why Homicide, even at its worst, will forever play like TV at its best. It was different—Hill Street Blues a shade darker, a series in which life on the street felt more like death in the alley every single week.
It seems like forever ago that Barry Levinson and Tom Fontana's show ran on NBC; it debuted after a Super Bowl and felt outrageous merely by its existence, as it was populated by the flawed, the chain-smoking, the hard-drinking and the harder-living. They were forthright screw-ups, good people haunted by the bad things they saw and could do nothing about.
Alas, its final season—now on DVD—isn't Homicide's best—partly because it's the sole season not to feature Braugher, whose character had recovered from a stroke and decided it was time to hang up his badge. No matter the strength of some of the episodes or the direction (from the likes of Kathryn Bigelow, Joe Berlinger, Miguel Artera, Nick Gomez and Lisa Cholodenko), the show started to feel a bit too routine—more about the badge than the people who wore them. The cast had gotten prettier—and emptier. And the collection is missing its finale, Homicide: The Movie, which brought back most of the original cast for a proper, painful farewell.