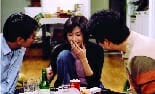 Director/Writer: Hong Sangsoo
Cinematography: Kim Hyungkoo
Starring: Yu Jitae, Kim Taewoo, Seong Hyunah
Studio/Running Time: New Yorker Films, 88 mins.
South Korean ?lmmaker Hong Sangsoo—whose knack for great ?lm titles also gave us The Day a Pig Fell Into the Well and Virgin Stripped Bare by Her Bachelors—has been compared to Michelangelo Antonioni and Hou Hsiao-hsien, but his latest ?lm, Woman is the Future of Man, has more in common with Joe Swanberg's Internet videos. That's not necessarily a criticism; with comic vignettes, both Hong and Swanberg are particularly adept at coordinating webs of characters and monitoring their dangerous, adult impulses. But while Swanberg makes miniature soap operas, Hong is considered a master ?lmmaker by many critics, so it's surprising to see him make a ?lm that's more feisty than philosophical. Most of the movie's humor derives from the way slow conversations bolt in unexpected directions, which also makes the insensitive, mercurial characters—mostly men—hard to take seriously in the end, even when Hong asks us to.