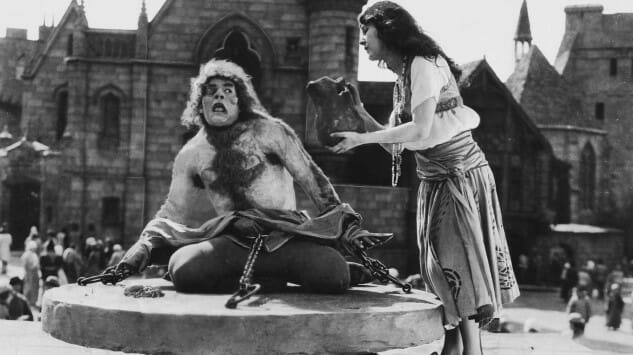 This post is part of Paste's Century of Terror project, a countdown of the 100 best horror films of the last 100 years, culminating on Halloween. You can see the full list in the master document, which will collect each year's individual film entry as it is posted.
The Year
Although The Hunchback of Notre Dame exists on the periphery of horror, it represents a big moment for the genre in the American studio system, launching Lon Chaney to stardom as the first bonafide American "horror icon," and presaging later smash hits such as The Phantom of the Opera. The rest of the year, like the rest of the early 1920s, is mostly notable for its European output—several Expressionist German films in the form of Warning Shadows and The Stone Rider in particular.
There's also the case of While Paris Sleeps, another Lon Chaney feature that was produced in 1920 but released in 1923. Its plot reportedly plays out almost like an early version of House of Wax, although it's impossible to say for sure, as the film is now considered lost. That leaves 1923 with a dearth of high-profile offerings, making The Hunchback of Notre Dame a pretty obvious pick. It's still a few more years from this point until there's a reliably robust crop of horror films every year. Just wait until we reach the 1930s, though.
1923 Honorable Mentions: Warning Shadows, The Stone Rider, While Paris Sleeps (lost film)
---
The Film: The Hunchback of Notre Dame
Director: Wallace Worsley
It's certainly not hard to make a case for The Hunchback of Notre Dame as more "adventure" or "romantic drama" than it is a horror film, save for one key characteristic: The iconic, unavoidably grotesque appearance of its title character. Lon Chaney Sr. was referred to as "The Man of a Thousand Faces" for a reason, a plaudit made only more legitimate by the fact that it was often Chaney himself to who was conceiving and applying his own makeup. A master of multiple crafts, you might call him the Doug Jones of his day—an actor renowned for his ability to emote, via subtle physicality and full-body performance, through layers of makeup and costuming that might suffocate other performers.
Here, in Universal's massively successful (their biggest silent film ever) adaptation of Victor Hugo's 1831 novel, Chaney is a dynamo of pent-up energy. He attacks his stunt work with a ferocity that makes you fear for the performer's safety, clambering and climbing, riding on Notre Dame's bells while sporting a countenance as Quasimodo that is genuinely is difficult to look upon. Described as deaf and half blind, he seems covered from head to toe in misshapen lumps of flesh, and you can feel his agony in the bestial movements he applies as he scampers through the cathedral and rings its bells with reckless abandon. His hatred of the common folk who live below makes him at first seem loathsome, and then pitiable—as does the tear-jerking, morose ending.
At the same time, though, there's also an odd undercurrent of misanthropic black humor running through The Hunchback of Notre Dame. Its assemblage of beggars—quickly revealed to be a den of con artists with faked illnesses and deformities—is shockingly modern in terms of its cynicism toward charity and "human decency," feeling more like a statement of Gen X punk rock disgust than something you'd expect to see in a silent film in 1923. Combined with the sometimes awkward attempts at period dialog, you'll be hard-pressed not to laugh when the captain of the guard orders his men to "tie up this varlet!" in reference to Quasimodo.
Ultimately, though, The Hunchback of Notre Dame resonates most strongly today for its timeless tale of haves vs. have nots, just as relevant now as it was when written in 1831. On the strength of a physical performance that has never really been equalled in any of the other Hunchback adaptations, it was a launching pad for both the fortunes of Lon Chaney and American horror films in general, although the American horror output would still prove sporadic until the boom of the 1930s.
---
Jim Vorel is a Paste staff writer and resident horror guru. You can follow him on Twitter for more film and TV writing.