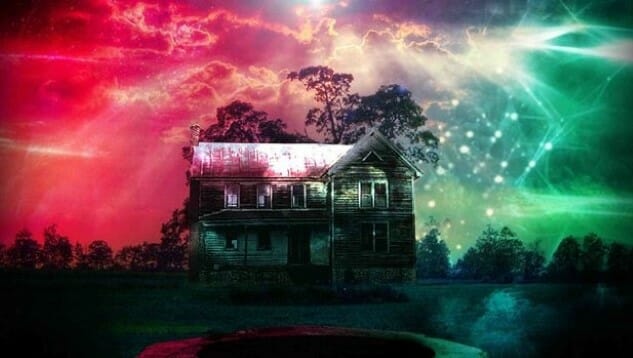 Buckle up, horror geeks—this is almost certainly going to end up as one of the year's wildest features. Color Out of Space, directed by Richard Stanley and starring none other than Nicolas Cage, has landed itself a world premiere date, and it's coming to the Midnight Madness section of the Toronto International Film Festival in September. An adaptation of H.P. Lovecraft's short story The Color Out of Space, the film revolves around a family that is menaced by an ethereal, extraterrestrial presence after a meteorite crashes on their remote property. To quote the full synopsis:
"From the mind of H.P. Lovecraft, Color Out of Space is a cosmic nightmare about Nathan Gardner (Nicolas Cage) and his family, whose recent retreat to rural life is quickly disrupted by a meteorite that crashes in their front yard. The Gardners' peaceful escape quickly becomes a hallucinatory prison, as an extraterrestrial organism contaminates the farmstead, infecting everything and everyone it can."
The Color Out of Space is one of Lovecraft's more science fiction-inflected tales, separate from most of the overarching "Cthulhu Mythos" for which the author is better known. In practice, we sort of expect the film adaptation to look a bit like last year's Annihilation, which is also about an extraterrestrial presence on Earth warping the life forms it comes into contact with. However, the presence of Cage, following last year's hallucinatory nightmare Mandy, is sure to ratchet up the "WTF" factor. And that's before we even get to the topic of Richard Stanley.
This is South African director Stanley's first major narrative feature since 1996's disastrous The Island of Dr. Moreau, in which the complicated shoot essentially overwhelmed the visionary director until New Line chose to fire him, replacing Stanley with veteran director John Frankenheimer. Despite this, however, Stanley stayed in the area and ultimately ended up on camera in the film without the director's knowledge, as told in the fascinating documentary about the film's failure, Lost Soul. It was a bizarre sequence of events, and Stanley hasn't directed another major feature—until now. What kind of explosion of pent-up energy will he unleash on the world via a Lovecraft adaptation starring Nic Cage? The possibilities seem endless.
Color Out of Space also stars Joely Richardson, Madeleine Arthur, Brendan Meyer, Julian Hilliard, Elliot Knight, Q'orianka Kilcher and … Tommy Chong? Good lord, we need to see this as soon as possible. The date of the film's wide release hasn't yet been confirmed, but we can't wait for that TIFF buzz, come Sept. 5-15.