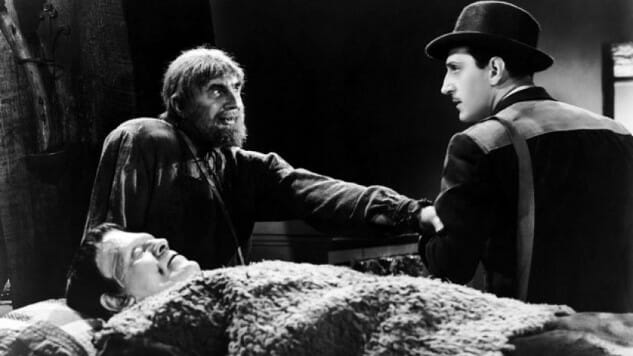 This post is part of Paste's Century of Terror project, a countdown of the 100 best horror films of the last 100 years, culminating on Halloween. You can see the full list in the master document, which will collect each year's individual film entry as it is posted.
The Year
After one of the driest periods in the history of horror cinema, from 1936-1938, the floodgates finally open in 1939, spilling forth all those pent-up cinematic nightmares. The unprecedented success of the re-release double bill of Dracula and Frankenstein in 1938 convinced Universal that there was more blood to be had from this particular stone, so they put Son of Frankenstein into production right away. That film, fortunately enough, turned out to be a classic, standing alongside Bride and the original Frankenstein as the third chapter in a near-perfect trilogy. More on that below.
The rest of the industry was not far behind, releasing a slew of new chillers that proved audiences hadn't grown sour on horror—far from it. Basil Rathbone has the notoriety of starring in not one, or two, but three of this year's films of note—the aforementioned Son of Frankenstein first and foremost, along with Tower of London and the horror-tinged Hound of the Baskervilles, one of Rathbone's many appearances playing Sherlock Holmes.
Also recommended is Boris Karloff's classic supervillain appearance in the low-budget Columbia horror flick The Man They Could Not Hang, which essentially puts Karloff into the same "scientist playing god" position he's playing opposite to in Frankenstein. This time, Karloff's Dr. Savaard is sentenced to death for conducting a dangerous experiment that results in a man's death, and then swears he'll return from the dead in order to avenge himself upon the judge and jury. This he does with the aid of his own scientific device, eventually trapping those responsible for his execution in a house full of deathtraps. Karloff is at his imperious best here, proving that within the space of a single year he could portray both a sympathetic creature and a genuinely devious human monster, in a role that would anticipate "horror revenge" tales such as Vincent Price's The Abominable Dr. Phibes.
1939 Honorable Mentions: The Hunchback of Notre Dame, The Hound of the Baskervilles, The Man They Could Not Hang, The Cat and the Canary, Tower of London.
---
The Film: Son of Frankenstein
Director: Rowland V. Lee
The grand return of Universal's monster series, following a four-year hiatus, could hardly have hoped for a better film to represent it. Son of Frankenstein doesn't quite have the sheer pathos present in the original, or in Bride, but in many ways it surpasses either of the first two installments, especially when it comes to production value. This is a sumptuous gothic horror film, arguably the most beautiful of any that Universal produced in its golden era of "gods and monsters"—it's a shame that it was also the last true "A" picture for the Frankenstein series, which would drop sharply in budget afterward. Either way, we get one last hurrah, and one more great Frankenstein film, cementing this series as the crown jewel of Universal's horror franchises.
This time around, our de facto protagonist isn't Henry Frankenstein but his son, Wolf Frankenstein, as played by top-billed Basil Rathbone. Wolf has lived a life of shame, away from his family's ancestral homeland, due to infamy caused by his father's experiments. Determined to reclaim his dynasty and family reputation, Wolf moves his family back to the ancestral Frankenstein castle, only to find that there are more than ghosts waiting for him in its abandoned laboratories and crypts. Many of the film's plot points will indeed seem familiar to those who have seen Mel Brooks' Young Frankenstein, which draws on this movie even more heavily than it does the previous two. Yes, even the inspector with the mechanical arm is here, grimly informing the audience that he lost it as a boy when the monster "tore it out by the roots." Yikes.
Karloff has one last go-round in him as the monster in this film—the last time he would ever don the makeup until an episode of the TV series Route 66 in the 1960s. Sadly, his characterization is somewhat reduced from the growth he experienced in Bride—rather than building upon the monster's dawning consciousness and ability to speak, he's instead regressed to being a mute again, which robs him of some pathos. Regardless, this disappointment is made up for by the presence of Béla Lugosi in one of his most charmingly wicked roles, as the hunchbacked servant "Ygor." Yes, this is the introduction of the concept of an "Igor" into the Frankenstein mythos, if you were wondering, the assistant in the original film having been named "Fritz." As Ygor, Lugosi practically steals the entire film, playing a coldly calculating psychopath who was sentenced to death by hanging years earlier, but somehow managed to survive, with the neck scars to prove it. Wielding influence over the revived monster, he uses the creature as a tool to seek his own particular brand of revenge. He's fabulous from start to finish, really showing off what Lugosi was capable of in a role that was tailored to his strengths.
More than anything while watching Son of Frankenstein, it's impossible not to be impressed by the incredible, expansive sets, the Expressionist-inspired backdrops and the classically creepy presence they help conjure. Laboratory scenes full of arcing Jacob's ladders don't get any better than this, at least until the British revival under Hammer in the 1950s and 1960s, which would bring the story of Frankenstein alive in lurid color. For its time, though, Son of Frankenstein feels like an apex in horror being treated as a truly populist, blockbuster enterprise. It may very well be the most purely entertaining Frankenstein movie ever made.
---
Jim Vorel is a Paste staff writer and resident horror guru. You can follow him on Twitter for more film and TV writing.