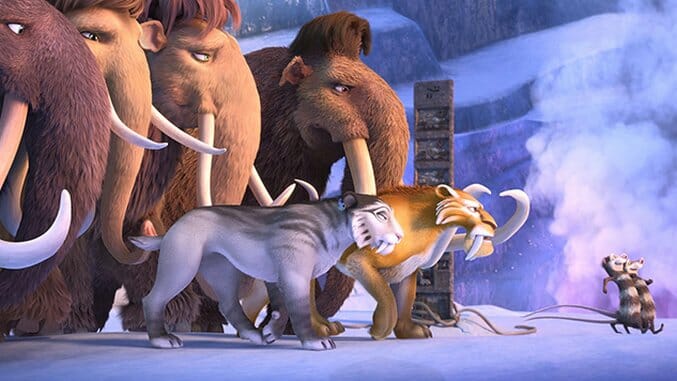 We've arrived at a fifth (!) film in the underwhelming but money-printing Ice Age series, which means that daycare centers now have a week's worth of movies to babysit the kids. You can't accuse the filmmakers of resting on their laurels, however far back you may have to venture to find them: They try hard—piling on the slapstick, subplots, detours and diversions. Some of it's even inspired and interesting to look at. But for all the effort to put on a show, for all the manic energy and "look at this shiny thing" aesthetic, the movie feels disappointing. Because it is disappointing, and the effort deserves better.
In his never-ending pursuit of that elusive acorn, Scrat the prehistoric squirrel once again sets the story in motion for the main characters with a bit of Looney Tunes-inspired shenanigans. As the accidental pilot of a flying saucer (sure, why not), Scrat unleashes a rock pile of asteroids hurtling toward Earth, including a big one on a direct course for the Ice Age regulars and its slew of newcomers. Recognizing their imminent doom, Manny (Ray Romano), Diego (Denis Leary), Sid (John Leguizamo), Ellie (Queen Latifah) et al follow Buck (Simon Pegg) on a road trip so they can divert the giant rock before it obliterates them.
Buck, the energetic, eye-patch-wearing weasel from the franchise's Dawn of the Dinosaurs entry, is reintroduced via a swashbuckling musical sequence set to "Figaro's Aria." It's then his job to explain the science at work in the attempt to steer away the asteroid. He gets an assist from the science-y alter ego in his brain, Neil deBuck Weasel (Neil deGrasse Tyson, natch), who's amusing just to look at. Tyson also provides his unctuous Cosmos-style voice-over about the origins of our solar system. He waxes over the mysteries of the universe while Scrat's mishaps ricochet the planets like giant billiard balls before they settle into their familiar orbits.
While a little of the saber-toothed squirrel goes a long way, seeing Scrat get bounced, pancaked and generally abused is better than being in the company of miserable grumps like Manny (Romano at his nasal-iest and whiniest), still a lumbering, expressionless buzzkill. This time, he gets to feel sorry for himself that his daughter, Peaches (Keke Palmer), is old enough to leave the roost and be with her fiancé, Julian (Adam Devine, channeling Jack Black so fiercely that he should split whatever he got paid for this gig). The film's writers don't even bother to make the family's sitcom troubles—including Manny forgetting his and Ellie's anniversary—an integral part of the story. Before the series' creators decide they must give us a sixth installment, they'd do well to consider whether they're tired of the series regulars and should instead spin off the more interesting ones of recent vintage.
They're already leaning well in that direction, because the legacy characters in Ice Age: Collision Course take a back seat to a trove of new faces. Their journey includes a visit to the purple-pinkish crystals of Geotopia, where they encounter a new-agey sloth name Brooke (Jessie J), and a "master of meditation" known as the Shangri Llama (Jesse Tyler Ferguson). Those cheering on the asteroid include a family of sadistic dino birds (one voiced by the droll Nick Offerman, who believes he can fly above the impact's destruction, inheriting whatever's left of Earth). Give the next movie to these weirdos and, at the very least, they may inherit what's left of a series that has run its course.
Directors: Michael Thurmeier, Galen Tan Chu
Writers: Michael Wilson, Michael Berg, Yoni Brenner
Starring: Ray Romano, Queen Latifah, Denis Leary, John Leguizamo, Keke Palmer, Adam Devine, Jessie J, Wanda Sykes, Simon Pegg, Jennifer Lopez, Nick Offerman, Seann William Scott, Michael Strahan
Release date: July 22, 2016