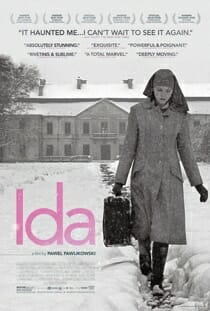 She thinks her name is Anna. The young orphan woman (Agata Trzebuchowska) lives in a convent in Poland in the early 1960s, convinced she wants to become a nun. But before Anna can complete her vows, the convent's Mother Superior directs her to make contact with her only living relative, her mother's sister, Wanda (Agata Kulesza). Anna does—and in the process discovers how little she understands about her own life.
Ida is a touching, low-key story about Anna's personal transformation, one that's flecked with wry humor but also sadness. Trzebuchowska is a nonprofessional actor, and director Pawel Pawlikowski (My Summer of Love, The Woman in the Fifth) focuses the drama on his actress's unvarnished, burgeoning beauty—there's an innocence and stillness in her expression that suggests that Anna at an early age has learned to be quiet and listen. This is especially important considering that the first thing Anna learns from Wanda is that she's actually Jewish—and that her real name is Ida.
Wanda's desire to educate her niece about her past sets in motion a most unusual road-trip movie, with the modest Ida and the hard-drinking Wanda making for unlikely traveling companions. Wanda, a stern judge, wants to get to the bottom of what happened to their family during World War II—specifically, whether it was the Nazis or the family's neighbors who killed them. As for Ida, who's lived a sheltered life, the journey is a somewhat frightening engagement with the secular world, albeit one still haunted by the horrors of war.
The Polish-born Pawlikowski teams with cinematographers Lukasz Zal and Ryszard Lenczewski to render Ida in black and white, utilizing a 1.37 aspect ratio that frames the image in a virtually square box reminiscent of cinema's early decades. The stripping away of color and widescreen visuals may be somewhat gimmicky, but it also serves to direct one's attention to the clarity of the storytelling. (Plus, the movie looks flat-out gorgeous.) Ida doesn't mean to be any definitive testimonial on postwar Poland—the movie is too modest and melancholy for anything so grand. But it is a strong snapshot of a handful of people who are either trying to bury the past or unearth it, with Pawlikowski never quite sure which faction are ultimately better off.
If Trzebuchowska's job is to be enigmatic—Ida essentially serving as a symbol for Poland's uncertain future—then Kulesza's task is to be vivacious and tart, presenting Wanda as a woman scarred by her memories. As they journey to a small town in the pursuit of answers, they meet Lis (Dawid Ogrodnik), a handsome, charming musician whose sweet demeanor seems to be a good fit for Ida. But whether in the revealing of Ida's family's past or the development of this budding romance, Pawlikowski keeps the proceedings muted, his movie's lack of color the most obvious example of his narrative's eschewing of high drama.
This may come as a surprise to those familiar with Pawlikowski's recent films, which had a ripe melodramatic flair to them. But he's going for a slow ache with Ida, in which death and love are both viewed from a respectful distance. The approach may make for a less resonant experience, but the movie's unresolved ending justifies the subdued treatment. Anna didn't know she was Ida when the movie began. Eighty minutes later, it would be unreasonable to expect her to decide who she's going to be from here on out.
Tim Grierson is chief film critic for Paste. You can follow him on Twitter.
Director: Pawel Pawlikowski
Writers: Pawel Pawlikowski, Rebecca Lenkiewicz
Starring: Agata Kulesza, Agata Trzebuchowska, Dawid Ogrodnik
Release Date: Screening at the 2013 Toronto Film Festival