The Avengers: Infinity War Trailer Is Now the Most-Viewed of All Time, Obviously
Art by Ryan Meinerding/Marvel Studios
Movies
News
Infinity War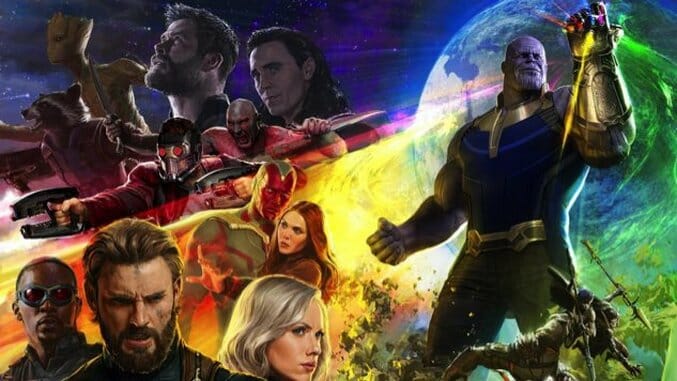 The Avengers: Infinity War trailer debuted on Good Morning America Wednesday, and in a development that will surprise zero people, it's racked up an insane amount of views since then. As announced by Marvel Studios this afternoon, the Infinity War trailer is now the most-viewed trailer of all time, with a whopping 230 million views in 24 hours.
Thank you to the best fans in the universe for making @Avengers#InfinityWar the most viewed trailer of all time with 230 million views in 24 hours! See you all May 4th pic.twitter.com/7dYmhk8VSi

— Marvel Studios (@MarvelStudios) November 30, 2017
That this development was so predictable makes it no less impressive: Infinity War pushed previous record-holder IT out of the top spot with authority, topping that smash-hit horror film's 197 million views by a significant margin. Before that, the record had belonged to The Fate of the Furious with "just" 139 million views—we did the math for you, and Infinity War bests Fate's total by nearly 100 million views. That is a whole bunch of eyeballs.
The Marvel Cinematic Universe has been building towards Infinity War for nearly a decade now, branching outward from 2008's Iron Man to comprise some 16 more entries (and counting), and becoming the highest-grossing film franchise of all time in the bargain, making billions and billions at the box office. Rather than giving in to superhero film fatigue, audiences have continued to salivate over each new hype-inspiring nugget of the MCU—between that immense level of anticipation and the many super-fans who put the trailer on repeat to pick apart every detail, it's no wonder whatsoever that the Infinity War trailer's view count has exploded.
Watch the Infinity War trailer below, if you're one of the dozen or so human beings walking the earth who have not yet seen it. The film opens in theaters on May 4, 2018, following the MCU's 17th entry, Black Panther, set for a February 16, 2018 release.