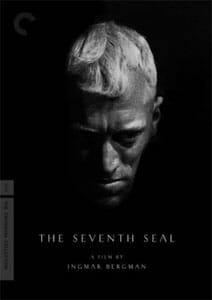 Writer/Director: Ingmar Bergman
Cinematographer: Gunnar Fischer
Starring: Max von Sydow, Bibi Andersson, Bengt Ekerot, Gunnar Björnstrand
Studio/Run Time: Svensk Filmindustri, 96 mins.
Knight plays chess with Death; Woody Allen, Conan, Bill & Ted take notes
It's fitting that for Criterion's sterling new edition of The Seventh Seal—a pillar of world cinema ever since its release in 1957—the troubled brow of Antonious Block (a role that made Max von Sydow into a star) graces the cover, rather than the portentous silhouette of Death (Ekerot). Long-standing comedic shorthand for art-house existential seriousness (see Monty Python, Conan anniversary shows or Bill & Ted's Bogus Journey, etc.), the emphasis shifts back to the haggard solitary figure of Block and his mortal question: what is the meaning of life? Amid black plagues, witch hunts, passion plays and bawdy songs, the knight (and Bergman himself) digs deep into such dark ages and finds a kernel of affirmation.