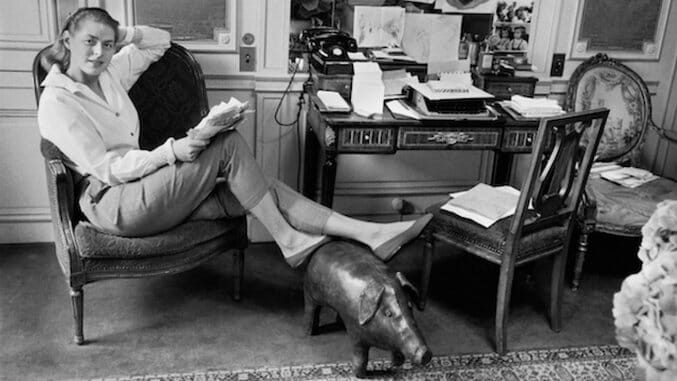 About 20 minutes into Stig Björkman's "film autobiography," Ingrid Bergman: In Her Own Words, the director features a film clip of Bergman's 1939 "no-makeup screen test" for David O. Selznik. With a no voiceover and only a minimalist piano score playing in the background, the camera lingers on the actress' face. She is breathtakingly luminous and ravishing—exactly how most remember the Swedish actress, star of a remarkable number of classic films, including Casablanca (1942), Gaslight (1944), Alfred Hitchcock's Spellbound (1945) and Notorious (1946), Anastasia (1956) and Ingmar Bergman's (no relation) Autumn Sonata. Björkman's film, however, isn't only skin deep. It examines the life of a free-spirited woman who didn't adhere to mid-20th century social norms. Bergman comes across as imperfect and flawed—human—which is contrary to the way we view most screen idols.
Swedish writer, critic and filmmaker Björkman had unprecedented access to Bergman's extensive archive of letters, notes, photos and home movies as well as the full participation of the actress' four children: Pia Lindström, Ingrid Rossellini, Roberto Rossellini and Isabella Rossellini. In fact, it was Isabella who in 2011 had suggested that Björkman make "a film about Mama." The family's involvement in the project is both an advantage and an encumbrance. While viewers have access to Bergman like never before, parts of her biography are simply glossed over or never addressed, giving an incomplete and highly curated view of her life story.
The actress herself was a prolific filmmaker and photographer who extensively documented her own life and that of her family. A surfeit of private footage, coupled with Swedish actress Alicia Vikander (Ex Machina, The Danish Girl) channeling Bergman through first-person narration, quickly establishes a sense of intimacy between subject and audience. Björkman's inclusion of old newsreels and interviews with the actress at various times of her career provides context to Hollywood history and Bergman's place in it.
The early life of Bergman, an only child, was marred by tragedy. Her mother died when she was 3, and her father, who owned a photography shop, died when she was 12. She was sent to live with an unmarried aunt, who died shortly thereafter. There were other deaths in the family, and by all accounts Bergman grew up a lonely and shy child. Left only with photos and film footage of her parents, Bergman's own children reveal through interviews the importance of the camera in the actress' life. She associated the lens with her beloved father, explaining the almost compulsive need to be both in front of the camera and behind it.
In Her Own Words provides an overview of Bergman's transition from Swedish film star to Hollywood leading lady. It documents Selznick's gamble in bringing the star of the 1936 Swedish film Intermezzo across the Atlantic for the American remake of the same picture. Just as revealing are the key friendships that Bergman developed with Selznick's first wife, Irene, and voice coach Ruth Roberts. She credited the two women for helping her establish a successful career in America: Irene for helping her navigate Hollywood politics and Roberts for improving her English. Björkman all too briefly shows that Bergman was a loyal friend to the women in her life, both in Los Angeles and those she left behind in Sweden.
The same can't be said of her fidelity to the men she married—and to an extent her own children. To its credit, the documentary doesn't shy away from Bergman's tendency to love 'em and leave 'em. Her first marriage to Dr. Petter Lindström, with whom she had daughter Pia, survived trysts with war photographer Robert Capa and director Victor Fleming, but not the much publicized affair with Italian director Roberto Rossellini. Bergman fell from grace and was branded immoral in America after giving birth to their first child out of wedlock. (They were both technically still married when their affair began). Devastated by the scandal, she remained in Italy to work solely on films with Rossellini, including Voyage to Italy, Stromboli, Europa '51 and Fear.
Proving that even 1950s America loved an underdog, Bergman made her triumphant return to Hollywood in 1956 for Anastasia, which earned her a second Oscar (her first was for Gaslight in 1944). When her tumultuous marriage to Rossellini ended in 1957, she married Swedish theatrical producer Lars Schmidt the same year. Most surprising amid these glimpses into her personal life are the complicated relationships Bergman developed with all of her children. Before Petter and Pia moved to Los Angeles, she would only see Pia during breaks in filming, at first going months and then later years without seeing her eldest daughter, after her divorce. It wasn't much different for the Rossellini children, who were often left in the care of others while Bergman was off working.
Björkman's documentary underplays some of the emotional unpleasantries of Bergman's life: divorces, custody battles and the thoughts of husbands and spurned lovers. While each of the children wishes Bergman were around more, none say they harbor any resentment or anger. It's a little hard to believe. Pia comes closest to admitting she was "stunned" upon being told her mother wasn't coming home, but she's also adamant there will never be a Mommie Dearest version of Bergman's story, as "she was just too much fun to be with." Roberto explains it best when he describes Bergman more like a friend than mother; he and his sisters grew to understand she didn't want to be tied down to traditional roles. While we don't need the sordid details—save it for the cable channels and talk shows—In Her Own Words forgoes any real examination of the consequences of Bergman's decisions on her relationships.
Also glossed over is Bergman's late career, save for her experiences filming Autumn Sonata with Ingmar Bergman and Liv Ullmann. Her last role, as Israeli Prime Minister Golda Meir in the miniseries A Woman Called Golda (1982), probably took the greatest courage; she was seriously ill and in pain with cancer during its filming, though she never let the disease affect her working 12-hour days. The capstone project is only briefly mentioned on title cards, though the role earned her a posthumous Emmy and Golden Globe.
Ingrid Bergman: In Her Own Words is edited seamlessly by Dominika Daubenbüchel, a frequent Björkman collaborator, but the documentary's pace does slow at times, weighed down by an overabundance of private footage. (Home movies are still home movies no matter whose they are.) Interviews toward the end of the film with actress Sigourney Weaver and historian Jeanine Basinger feel tacked on, afterthoughts without any additional insight.
Though we understand why Bergman's children would want Björkman to keep painful memories and ignominious subjects out of the picture, Ingrid Bergman: In Her Own Words winds up as a tribute film. It's an incomplete portrait of a complex woman whose off-screen life was just as dynamic as her on-screen persona.
Director: Stig Björkman
Writers: Stig Björkman, Dominika Daubenbüchel, Stina Gardell
Starring: Featuring interviews with Isabella Rossellini, Ingrid Rossellini, Roberto Rossellini, Pia Lindström, Fiorella Mariani, Liv Ullmann, Sigourney Weaver and Jeanine Basinger. Narration provided by Alicia Vikander
Release Date: Opening in New York on November 13 and Los Angeles on December 11
---
Christine N. Ziemba is a Los Angeles-based freelance pop culture writer and regular contributor to Paste. You can follow her on Twitter.