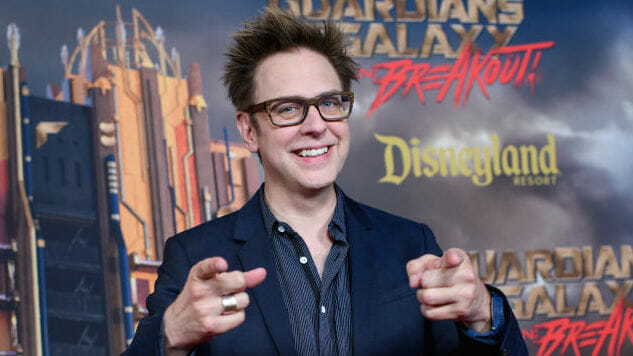 Well, this could certainly shake the MCU and the DCU to their respective foundations. James Gunn, the writer-director of the wildly successful Guardians of the Galaxy franchise, is apparently jumping ship to the DCU's Suicide Squad series. According to The Wrap, the recently fired Guardians director is in talks to write Suicide Squad 2, with the thought that he'd also be directing the film.
Needless to say, this would be a huge acquisition for the DC film universe, snagging a guy whose vision for the Guardians series essentially reshaped the structure of Marvel movies ever since. It's no coincidence that entries like Thor: Ragnarok have been arguably more comedy than action movie—it's just following the example that was set by Gunn, before his firing by Disney when offensive old tweets surfaced. Since then, support for Gunn has been very strong, with the entire Guardians cast signing a petition to attempt to get him rehired. Disney, however, has refused to budge. Actor Dave Bautista, who plays Drax the Destroyer in the Guardians series, has been especially outspoken on Gunn's behalf.
The infusion of Gunn's writing sensibilities seem like a perfect fit for the critically panned Suicide Squad, which was accused by many of being toothlessly "edgy," in the mode of a Hot Topic tee shirt. Still, it made plenty of money, raking in $750 million worldwide on a $175 million budget. A sequel was always in the cards, considering the film was relatively more successful than the likes of Justice League, and has the potential to launch Harley Quinn's own line of solo movies.
What kind of story will Gunn consider for the Suicide Squad to tackle? A gang of snarky villains, forced to team up to fight a greater evil? Sounds pretty Guardians to us.
We leave you with this undeniably perfect bit of fantasy casting, via Twitter.
CAST @DAVEBAUTISTA AS SOLOMON GRUNDY

and put him in @JamesGunn's Suicide Squad 2: Twoicide Squad pic.twitter.com/UqejgTL6S1

— Spooky Dan Casey (@DanCasey) October 9, 2018