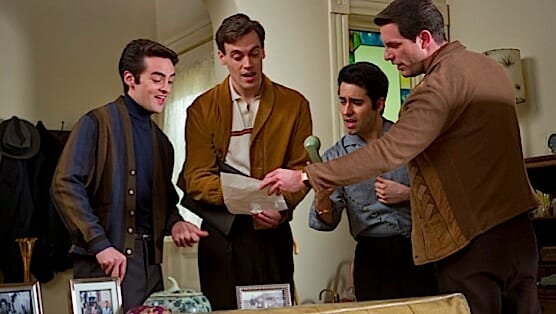 Clint Eastwood has never made a musical in his forty-plus-year directing career, and even after seeing Jersey Boys, I'm still not sure he has. Even though Eastwood's film of Jersey Boys is based on the Tony-winning Broadway hit and stars several key members of the show's stage cast, it's hard to call it a movie musical in the same way as Chicago or Grease or, hell, even Frozen.
In telling the story of Frankie Valli and the Four Seasons, Eastwood's Jersey Boys falls closer to traditional music industry bio-pics like Ray and Walk the Line, and that's not necessarily a bad thing. It just may surprise fans of the show who buy a ticket expecting the same manic parade of doo-wop hits they got on stage. While the musical's authors, Marshall Brickman and Rick Elice, are also responsible for the film's screenplay, Eastwood's interest clearly lies in the human drama behind the music.
That begins with a 16-year-old Frankie Castelluccio (played by 38-year-old Tony winner John Lloyd Young, cast for his vocal and not visual credibility) laboring as an apprentice barber and dreaming of a singing career. His street-smart buddy, Tommy DeVito (Vincent Piazza of Boardwalk Empire), recognizes Frankie has a unique talent and hustles up any chance he can to capitalize on that (and ride Frankie's coattails to success). These early scenes play like imitation Martin Scorsese as filmed on an old-fashioned Hollywood backlot. Eastwood fumbles when it comes to the authentic feeling of a '50s Jersey neighborhood, and his film takes awhile to get going because of it.
The pace picks up about the time gifted songwriter Bob Gaudio (Erich Bergen) enters the picture. He's introduced to Tommy by a young Joe Pesci (Joseph Russo and yes, he's playing that Joe Pesci), and together with fourth wheel Nick Massi (Michael Lomenda), Bob, Tommy and Frankie form a quartet impressive enough to catch the attention of flamboyant Brill Building producer Bob Crewe (scene-stealing Mike Doyle). Initially pigeon-holed as backup singers, they finally get a chance to shine thanks to a one-two punch of DeVito's temper and Gaudio's future classic "Sherry."
Just like on stage, each member of the Four Seasons gets a turn directly addressing the audience (in this case, the camera) with House of Cards-style asides both commenting on the action and illuminating their personal viewpoints. It's a nifty way to allow all four men the chance to make their mark, and Jersey Boys does a better job distinguishing each member of the group than many other movies about life in a band.
Establishing the various personalities and their working relationships is about all the movie has time for as it follows the typical three-act bio-pic structure: anonymity, success, decline. When the narrative tries to veer from professional drama to more personal territory—most notably in Frankie's poorly defined romances with brassy first wife Mary (Renee Marino, making a great first impression before being saddled with neglected spouse cliches) and journalist girlfriend Lorraine (Erica Piccininni, solid)—the strain is all too evident.
It's possible some of those rough patches could've been smoothed over with more prominent use of the Four Seasons' classic tunes. They don't need to dominate the movie as they do the stage show, but they should truly pop every time they're used. That's just not the case here. Still, any time all four members of the group are together in one place—whether it's performing on American Bandstand, sitting in a row of jail cells in Ohio, or engaging in an epic showdown in the living room of mafia godfather Gyp DeCarlo (a snazzy and playful Christopher Walken)—Jersey Boys finds its groove.
Eastwood's decision to foreground the characters is a smart one, and he's rewarded with generally strong performances. Piazza and Bergen are especially adept as polar opposites of vulgarity and refinement, respectively, and Lomenda fully comes into his own in the aforementioned living room sequence. Unfortunately, Young's winning vocals in the role he originated on Broadway can't compensate for his lack of screen presence. That's a major drag, particularly when he's flying solo in the spotlight as Frankie suffers devastating turns in his personal life late in the film.
A moving reunion at the 1990 Rock and Roll Hall of Fame induction ceremony brings the action to a natural ending point, but just when you think the story is over, it turns out Eastwood has saved his showiest move for last. The closing credits explode into a full-blown musical reverie, complete with a toe-tapping Four Seasons medley and rousing song-and-dance work from the entire ensemble (including Walken). It's not quite long enough—and it's certainly not enough to qualify as a feature-length musical—but it's enough to suggest Eastwood knows what a certain segment of the audience is going to demand and found a way to deliver it on his own terms.
Director: Clint Eastwood
Writer: Marshall Brickman and Rick Elice, adapted from their musical book
Starring: John Lloyd Young, Vincent Piazza, Erich Bergen, Michael Lomenda, Christopher Walken, Mike Doyle, Renee Marino, Erica Piccininni, Barry Livingston, Joseph Russo
Release Date: June 20, 2014