Limp Bizkit's Fred Durst Is Directing a Psycho John Travolta as a Crazed Stalker in Moose
Photo via Getty Images, Kevin Winter
Movies
News
John Travolta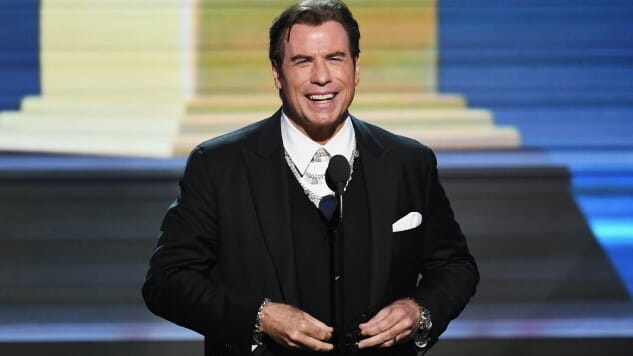 Well, in terms of "headlines we didn't think we'd be writing this morning," one involving both Limp Bizkit and John Travolta would certainly have been fairly high in the rankings. And yet, here we are: Limp Bizkit frontman Fred Durst has kicked off photography on his third directorial effort (and first in a decade), a thriller known as Moose. Said film will star John Travolta in the lead role, as an obsessive cinema fan turned crazed stalker.
The story, written by Durst and Dave Bekerman, is reportedly based on some of Durst's own personal experiences dealing with a particular stalker in the past. The object of Travolta's obsession, meanwhile, is a cinematic action hero (played by Devon Sawa), with whom he first tries to ingratiate himself before setting out to "destroy his life." Sounds like your standard male twist on The Fan or Single White Female.
The film will shoot in Alabama, following Durst's not particularly well-received first two features: The Education of Charlie Banks in 2007 and The Longshots in 2008. It's hard to know what to make of the Travolta involvement—the star has been written off in the past, only to reemerge in noteworthy films. Most recently, he appeared in former horror director Ti West's In a Valley of Violence neo-western, but it's still somewhat difficult to look at the guy and not see the creative visionary behind Battlefield Earth—not to mention his well-publicized ties to Scientology.
"There certainly is no shortage of amazing Fred Durst stories to tell, but this one in particular is unequivocally cinematic in how it plays out," AMBI's Iervolina said in a statement. "John's range as an actor will once again be shown off as he steps into a character that Fred is all too familiar with-making this pairing so exciting."
Does it seem like a bad sign when a producer has to assure the public that a story is "unequivocally cinematic" before it starts filming? We'll have to wait and see, but coming from the minds of Fred Durst and John Travolta, this should be memorable, at the very least.