Jordan Peele Is Directing Another Genre Thriller for Universal in 2018
Photo via Getty Images, Kevin Winter
Movies
News
Jordan Peele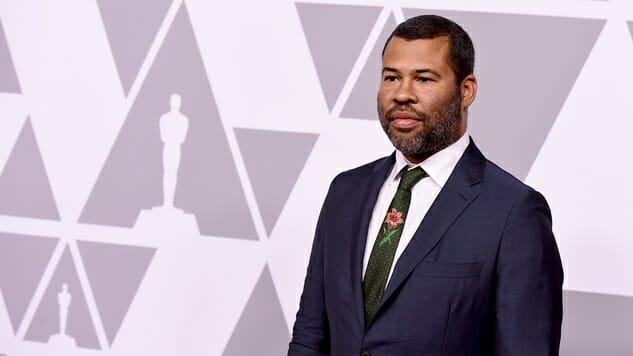 As director Jordan Peele awaits the results of the 90th Academy Awards on March 4, where his debut feature Get Out is nominated for Best Picture, he's giving fans a little bit more information on what his second feature film might look like. Speaking with The Hollywood Reporter, he suggested that although a Get Out sequel could eventually be in the cards down the line, he'll first be directing a different original genre film of his own creation for Universal, the studio that also distributed Get Out.
"You know, I think it's important to focus on stories that are true to me," the director said. "My next film, I am currently writing it and I'll direct for Universal this year; I'm just trying to entertain myself again. One thing I know is that this is genre; and playing around with the thriller, horror, action, fun, genre of intrigue is my favorite. That's my sweet spot. So I think tonally it should resemble Get Out. That said, I want to make a completely different movie. I want to address something different than race in the next one."
There are several interesting nuggets here. First is the confirmation that he'll be shooting his second feature in 2018. Second is Peele's thoughts upon genre: Get Out was more or less marketed to the public as a horror film, but it fits somewhere into an unclassifiable space between horror, satirical dark comedy and psychological thriller.
Of course, most significant is Peele's assertion that the second film would be addressing "something different than race," which would be a vast tonal departure from Get Out, the heart of which dealt so heavily with the nightmare of being a minority in the modern United States. The subject is so close to the writer-director's heart that one wonders what he will produce when purposely attempting to distance himself from the same source of satire that was also present in his Comedy Central sketch show, Key & Peele. One thing is for certain: We cannot wait to see what Peele will be doing next. Good luck at the Academy Awards, Jordan.