Watch: Jurassic World Short Battle at Big Rock Packs a Big Bite
Images via Universal Pictures
Movies
News
Jurassic World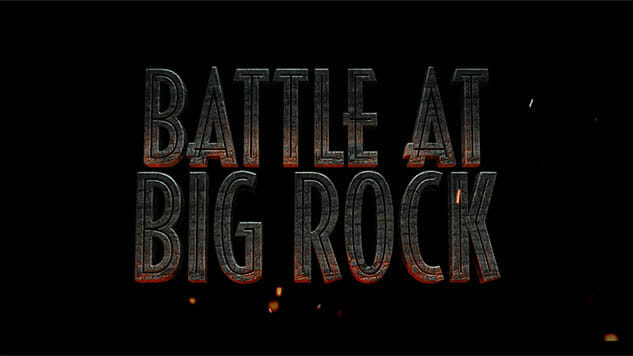 Earlier Monday, Universal Pictures took everyone for a ride with the surprise release of a Jurassic World short film titled Battle of Big Rock. The roughly nine-minute film fits into the Jurassic universe following the events of Jurassic World: Fallen Kingdom.
The short stars André Holland (Moonlight, Castle Rock) and Natalie Martinez, and features a campfire, barbecue and trailer full of their young children that suggest wholesome camping trip more than Jurassic apocalypse, though the scene quickly devolves into the latter. The dinosaurs featured include some docile plant eaters, as Holland's intuitive onscreen daughter remarks, but soon enough, some that would prefer the family's barbecue show up.
Colin Trevorrow directed Battle of Big Rock as a prequel to the forthcoming Jurassic World 3, in which Bryce Dallas Howard and Chris Pratt are expected to reprise their roles as Claire Dearing and Owen Grady. Trevorrow directed and co-wrote Jurassic World with Rick Jaffa, Amanda Silver and Derek Connolly, and co-wrote the Fallen Kingdom follow-up with Connolly. Trevorrow will return to write, direct and produce the third installment, which has no title as of now, but a release date set for 2021. Battle of Big Rock makes it clear the fight for survival won't just be central to one place: Jurassic World has officially gone global.
You can watch the short below, and be sure to stay through the credits for a few more dinosaur sightings.