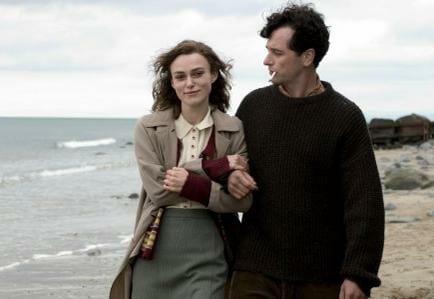 Release Date: March 13 (limited)
Director: John Maybury
Writer: Sharmon Macdonald
Cinematographers: Jonathan Freeman
Starring: Keira Knightley, Cillian Murphy, Sienna Miller, Matthew Rhys
Studio/Run Time: Lionsgate, 110 mins.
While he plays a major part in the film, The Edge of Love is not a Dylan Thomas biopic.It's a pity though, because pinning down what exactly the film is, or is trying to be, is pretty difficult.On the one hand, it's a story about Britain during WWII, where characters are scrambling or ignoring bomb sirens and discussing enlistment.It's also obviously a love story, focusing on Thomas and his wife's struggles with another couple.Everyone is attracted to everyone else and no character is above sleeping with anyone else regardless of the pain it will cause the entire group.When William Killick (Cillian Murphy) heads to the front lines, Thomas tries to turn the film into a repeat of Jules and Jim with the two women, whilst everyone avoids the responsibilities of raising the two children growing up amidst all of this melodrama.
But Edge never reaches the level of Jules and Jim or Atonement, its other obvious influence, due to its uncertain plot.Not only is the film unaware of what to do with a figure as larger-than-life as Thomas, it also skips out on telling a compelling story for Killick's cataclysmic actions at the end or why its two female leads, Caitlin MacNamara (Sienna Miller) and Vera Phillips (Keira Knightley), have such a strong bond between them.The whole situation feels contrived, where characters are acting simply because a screenwriter dictated they should rather than in any sort of realistic manner.Every role is performed well, especially by Knightley and Matthew Rhys as Thomas, but they're never given real people to play.
Edge looks beautiful, even if some of its compositions tend toward cliché, but its beauty is the cold, calculated one of a typical period drama.The few moments that do step beyond these trappings for something new are unfortunately largely unprovoked, so that Thomas' poetry and Phillips' singing seem like little more than a distraction.Ultimately, each of the film's three major threads feel like it could have made a complete movie, and elements are there which make each of them approach a level of relevance (and at times grace) within Edge. But none of them take off, and the film ends with a muddle; several stories have been shown onscreen but none of them have really said anything.